I am super-duper excited and honored to be part of
Jess LC's SOC•CHIC
Giveaway! Seven other bloggers and I are giving away a different necklace from the collection, the sales of which benefit different causes (the lovely ladies and their giveaways can be found at the end of the post).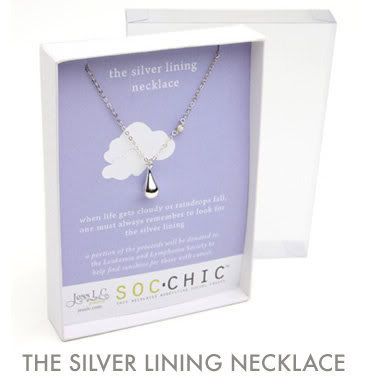 I chose the
Silver Lining necklace
, whose motto is "When life gets crazy or raindrops fall, one must always remember to look for the silver lining."
As
a lover/needer of inspiring quotes and a long-time reader of Jess' blog
Makeunder My Life
, her positivity, spirit, business acumen, determination, and most of all her hopeful and helpful advice are an inspiration every day. So did I mention I'm just tickled pink
and
pleased as punch to be included in the bunch??
From now until Friday, August 5th you may enter to win this necklace by leaving a comment
(make sure to leave an email if I can't get back to you through your login i.d.).
Make sure to keep reading & check out the other lovely blogs for a chance to win all eight beauts!