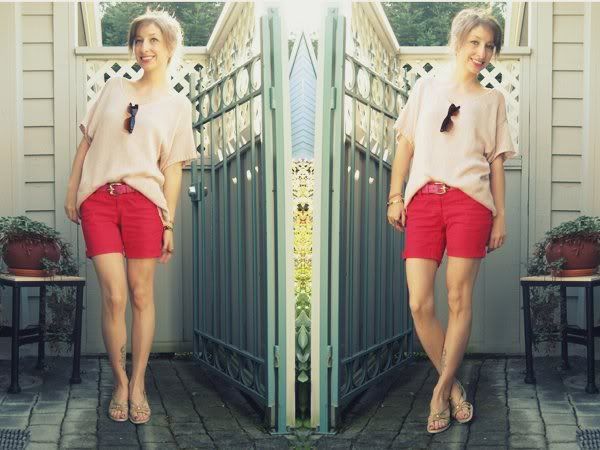 The past week was a busy one and I didn't get to update as much, thanks to the terrible first world problem of faulty wireless (why? Why?!?). But I saw Queens of the Stone Age for the I-don't-remember-how-manyith time and had a blast singing along with my boyfriend (and the packed sweaty Santa Cruz crowd, this was before the heat broke). Plus, I'm so excited to finally tell you that I've got some wonderful giveaways to share with you this week, so check back tomorrow!
I wore this last week, before the gloomy coastal fog descended. I haven't worn red and pink together before, so I tried to go for the full valentine's color spectrum: bright red, hot pink, pale pink and some white and gold accents. I'm wearing diy cut-off
shorts
via Crossroads, a thrifted
belt
, an H+M knit
top
, and my favorite Granny
sandals
from Ross. The sweater and belt would be really fun with colorful jeans or heels or patterned leggings, too! I'm still lusting after some aztec or snowflake patterned ones
...
Anyway, try to have a Happy Monday, and if you haven't,
view the first time I wore those red shorts :)