Okay, the red jacket again. Just bear with me. You probably know what new-clothing-itis feels like.
Hey, look at Oreo! If there's one purely good thing in my world, it's that precious little dog's face.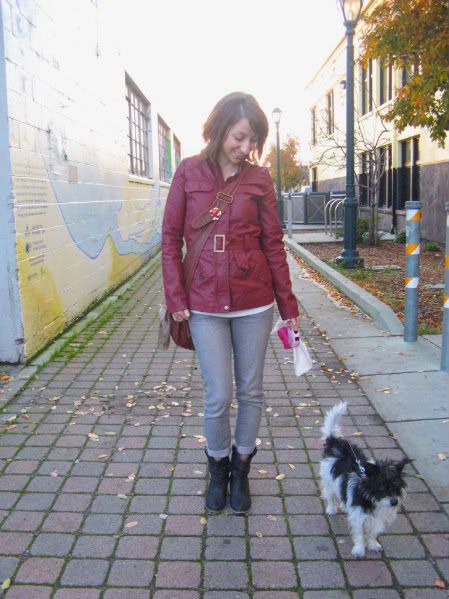 Sometimes I can bring her to the shop I work in, and this day my coworker brought her little chi chi Mister as well, so it was like a miniature circus. Good thing you can at least see most of the purse I've been meaning to photograph but haen't... Oh wait, yeah! I'm waiting on a CF card in the mail and I can't wait to use my other camera! My poor point and shoot has served me long and well, but it's seriously starting to decline. Hurray for amazon.com and gift cards.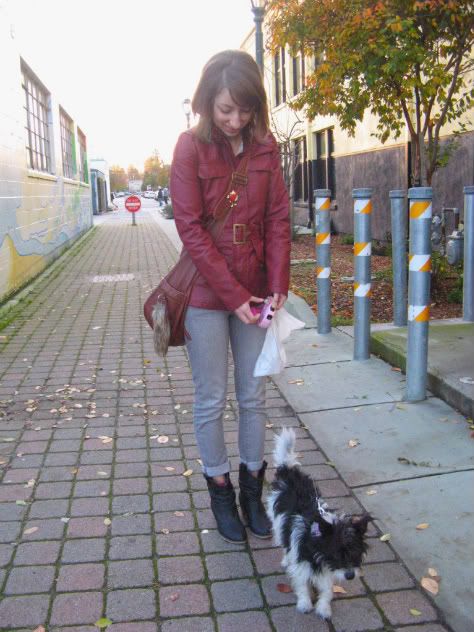 ♥ boots - journey's, sale
♥ jacket - wet seal
♥ bag - crossroads
♥ "tail" - h&m
♥ pin - mom's
After work I went to a nearby pub for some good old quality cider, ds mario kart racing, pretzels, and then some rounds of trivia that left us feeling slightly lacking. I mean, I thought I had a large amount of useless data stored in my head, but trivia nights remind me how vastly uninformed I am haha. With only a few days left of the aughts for many of us, I'm not even sure what my new year's plans are, or if I'll just stay in again...
What are your NYE plans?