Last week before Christmas, some friends and I got together for a sort of mini mini holiday party. One friend had to come from San Jose and got a hotel room downtown, so we pre-gamed there with tequila shooters and dice games, photo shoots, and music, then went out for some dancing. We had such a fun night!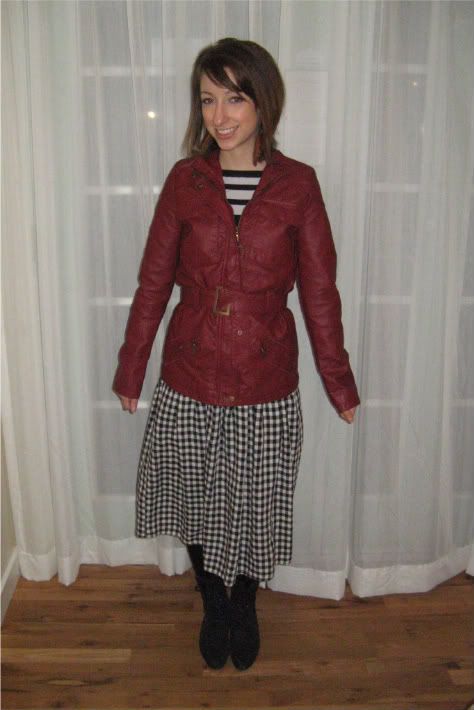 Um, so yeah. On my drives to and from work for the past few month, I'd been eying this skirt in a thrift shop window. I never got around to stopping by and checking it out, though. Well, one fine day as I walked past the shop on my way to buy pizza for lunch, I saw the skirt on the sidewalk sale rack and stopped dead. $5. Marked down from ten, haha. Well I snapped that thing up with my pizza money and never looked back. Lucky for me it actually fits, well, with a safety pin extension, I don't have a 24" vintage waist ;) That plus the eight or nine pounds I've gained this past five weeks or so of eating insane amounts of empty calories. But back to the skirt, and drum-roll please.... it has deep pockets! My favorite, such a wonderful surprise.
The jacket I just found at Wet Seal on sale for $10 as well, while I was looking for some replacement jeans for the ones I recently popped the front button off of (like most of us, I tend to gain weight in my belly). While they didn't have the jeans in any wash but stone (ugh), the jacket was such a great find. It'll probably be in tomorrow's outfit post, too, just to warn ya. When my mom saw le jacket she admired it so much that I went back and bought a marvelous evergreen one that I'd almost chosen for myself, which made a great, affordable, last minute additional gift. It fits well, the belt is in the right place for me for once, and I love the color!
jacket: wet seal
skirt: thrifted
boots: vintage, via crossroads
Ironically, my mother gave me a gift certificate to that same mecca of teeny bopper stores and jeans for short people that don't want to spend much or get the things hemmed. Bah! So I went on a midnight online shopping spree and got a bunch of awesome things that aren't in the store. Hurray for Christmas, right? Hurray for friends and family, hurray for soy nog, hurray for rearranging and cleaning my room, even though I'm really sore now. I can roll with that, though; it'll be my re-re-re-re-re-re-re-introduction to working out!
me and my pifc (partner in fashion crime) ♥
goodnight lovies