Soo... I've tried five drugstore mascaras in the past month, and thought I'd share with you some of my findings.
Especially because it's insane that I bought that many, I need to at least blog about it so it's not a complete waste ;]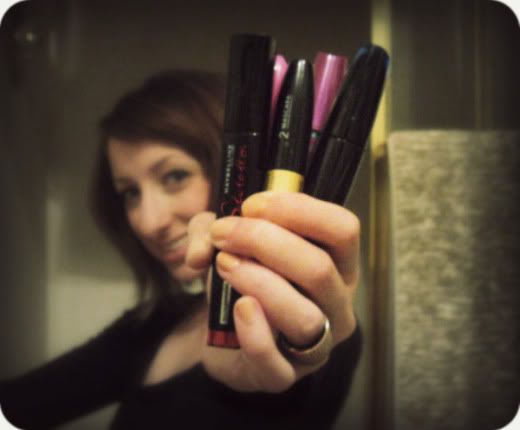 (from left to right: Maybelline Lash Stiletto; Rimmel The Max VolumeFlash; Revlon Lash Fantasy;
Maybelline The Falsies Volum'Express; L'Oreal Extra Volume Collage)
*one weak, faltering drumroll, please*?
Likes:
♥ single application gave lashes a naturally darker, thicker, feathery look
♥ washes off easily
♥ decent brush
Dislikes:
- doesn't build well
- not available in waterproof
For now, I'm satisfied enough to want to use it up (and some of the others, too) before I go spend more money. But I'm not done yet with my search for the perfect un-smudgeable, ultra-thickening & lengthening inky black potion.
The second-place goes to Maybelline's The Falsies mascara. The name is just so promising. I really like the look of false lashes, but I mean, that's not real life for me. Someone needs to give an award to the person who decided on that name, though. While it builds better than Rimmel's The Max, the brush's curved shape and odd bristle lengths left me a little put out. Hrmm, maybe I should use one brush in the other?
Maybelline Lash Stiletto promises shiny, longer lashes, and it sort of delivers. Lashes do have a slightly different finish than the dullness of most mascaras. For me however, the effect of lengthening sparse lashes is a bit unflattering. This might make a good choice for someone with thick lashes who wants length or just a more natural look.
Dear Revlon Lash Fantasy. Two things: chunky? and Tammy Faye-looking?
L'Oreal Extra Volume Collagen mascara glided on nicely, but I wasn't impressed by the brush or formula.
~~~~~~~~~~~~~
ahem,
has anyone tried Maybelline's Great Lash BIG?