Sorry ya'll, but let's just say I'm a little disgruntled about the camera/lighting/photo sitch lately
, so I'm heavily editing them.
Oh no, a
dreaded butt wrinkle! Whoops...
Ucky grey cloud cover has descended; Santa Cruz weather returns to "the usual." It rained last night and feels like we're back in January! Brrr. Confused as to how to dress, I kind of ended up in a dark, wintry outfit that I felt was still summer appropriate because of the pink flowers....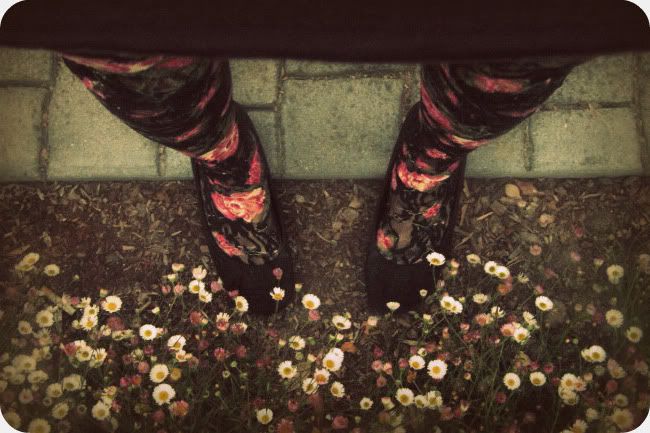 blazer - bcbgirls, via ross | scarf - second-hand | skirt - self made | tights - h&m | shoes - payless
Yesterday I was browsing UO and Bunny's Shoes on my lunch break when I realized what I was doing: thinking about cheating during the
Wardrobe Refashion
challenge! Only seven days in and I am craving something new. I realized I want to shop more when I'm tired or get irritated at work. Good thing the weekend is here, I've got projects lined up: I'm thinking about changing a dress I never wear into a cute top and making a cut-out dress or romper out of some new fabric I found on the sale table.
I also found this awesome
necklace idea
on
p.s. i made this
and picked up some supplies to try it.