A warm, sunny morning can really bring a smile to your face and set the mood for a good day. I didn't even need to wear tights today, though I ended up buying two new pairs on my lunch-break... They are spring-y though! I made this dress a few years ago out of terry cloth; it's like wearing a super-soft towel. It'll be a perfect beach cover-up. One of my vows is to hit the beach more often this summer. I don't take enough advantage of living in a pretty place many people pay lots of money to visit.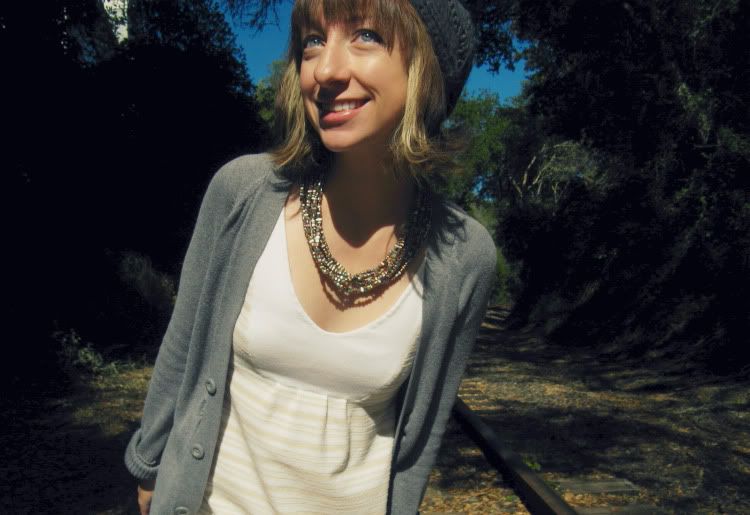 Later in the day, it was so hot in traffic that the cardigan and hat came off, quickly. I was wearing wool socks too, but it cooled down enough that I was grateful for them. It was one of those days where lots of people asked about my tattoos. It is interesting to see how some people look once and then avoid you, while others are intrigued and act like besties right away. Tsk tsk, silly prejudices. I guess I've been wearing long sleeves for so long I'm not used to it anymore!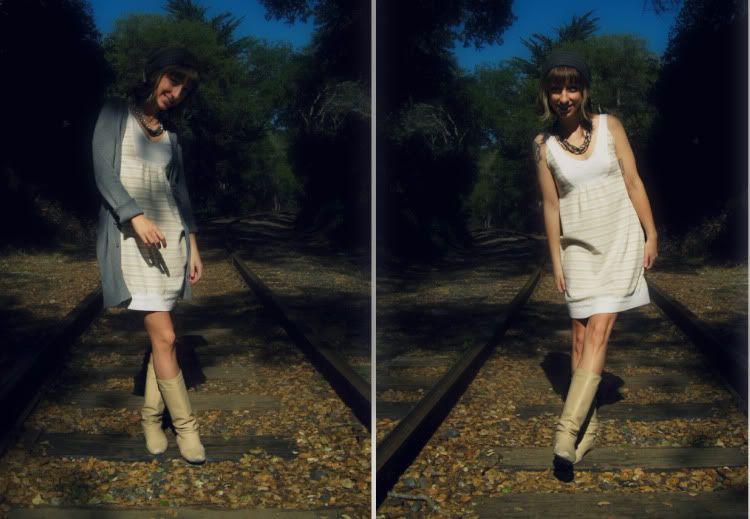 Check out my new ring — it's a locket! I'll show the inside when I find stuff to fill it with. I need to get a photo of my pup Oreo to put in there, and maybe a miniature inspirational quote will fit, too.
hat - uo | dress - self made | cardigan - dress from target | necklace - thrifted | boots - aldo | ring - crossroads
Today's Yays
♥ more gorgeous weather ♥ while taking the doggie out tonight, I took a minute to look up at the stars. Hello Big Dipper, I haven't noticed you in a while! ♥ I got to work with my good friend today; it was a treat to see her, she's so busy! We made a strangely delicious raspberry chocolate mini cake in the microwave ♥ in response to this
post
, the beautiful
Fourth Daughter
gave me the link to this awesome "counterfeit crochet" site, with
patterns
to make your own diy Chanel. I can't
wait
to get to the craft store for supplies!