I was riveted by the makeup in Louis Vuitton's Spring/Summer 2012 runway presentation, done by Pat McGrath, I believe. The defined eye touches back to fifties and sixties style while the luminous foundation and glossy lip help update it for today. I tried to recreate the look using products I already had.
♥ moisturizer
My cheeks and eye area tend to get a little flaky, so I was immediately drawn to this awesome makeup trick I read in an old Alexa Chung interview: after your finish your face makeup, rub a little dab of lotion between your palms and lay them on the areas of your face that look chalky for a few seconds.
This will help give your skin back a dewy, natural appearance after you've evened it out with makeup (if you use it at all). Right now, I'm really liking my Bare Minerals Purely Nourishing moisturizer sample, enough so that I ordered another one (sample).
♥ bronzer
I only recently learned the secret behind that illusive, natural-looking peachy/taupe eyeshadow I keep seeing: try bronzer! It looks more "natural" against your skin than chocolate brown hues. I used the Warmth bronzer from BareMinerals..
♥ black liquid liner
Quintessential. I like Revlon ColorStay because the applicator is like a fine felt tip pen and easy to control. I get the stuff
everywhere
if I use one with a long skinny brush.
♥ lush lashes
Either pull out some fakes, or use gobs of black mascara. I am liking the fatty brush and "natural" claims of Physician's Formula Organic Wear mascara at this moment.
♥ peachy lipcolor
Lips look natural and low-in this look. I pulled out an old tube of Sandy (a nude/apricot lipgloss) from BareMinerals Buxom line. If you don't have any peachy lipcolors, just use clear lipbalm.
Step by step:
♥ Skin:
Even out your skin like you normally would. Make sure to define/groom your brows and avoid bright blush. Lightly press moisturized palms onto your cheekbones, brow-bones, and the tip of your nose. This will add a dewy finish to the areas that reflect the most light.
♥ Eyes:
As a base, apply a beige shadow to your lid and brow area. Concentrate some shadow on the brow-bone and inner corners of the eye to highlight. Lightly sweep bronzer along the crease of your eye and under the bottom lashes. Concentrate the color in your natural crease, adding shadow gradually and blending well. No hard edges!
Next, draw a bold line along your upper lashes with liquid liner, extending a little flick beyond the corners; let it dry before moving on! Dot a sharpened black eyeliner pencil between your upper lashes and line the inner rims (I'm just weird about skin showing through gaps in eyeliner liner)). If you have white or beige eyeliner, put a touch along your lower rims for an even more wide eyed, clean look.
♥ Lashes:
Now either apply falsies, or brush a
ton
of black mascara onto your upper lashes. Wipe the excess off the brush before using the tip of the wand to darken the lower lashes on the outer two-thirds of the eye.
♥ Lips:
Swipe on some lip gloss, and you're peachy keen!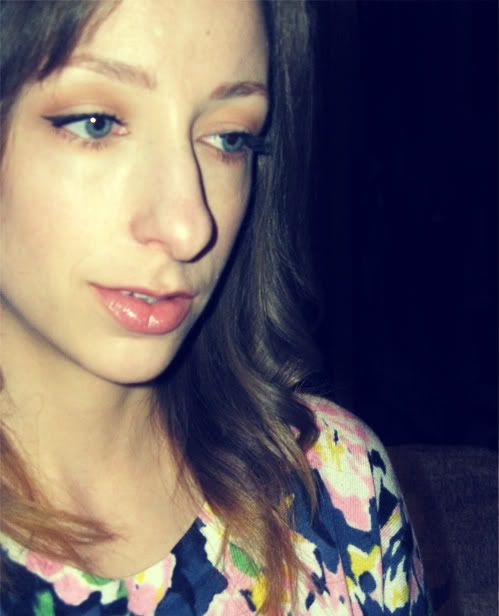 In retrospect, I could have gone way more gonzo with the liner 'n lashes...
But besides that, whaddya think?