During the summer months, the Boardwalk hosts free friday night concerts on the beach. Last Friday was one of the last of the series: I went to dork out to Berlin with my bestie while the sun went down. I have to confess that I haven't been to the beach all summer, even though I live in a beach town. Growing up in Santa Cruz, the Boardwalk is pretty much taken for granted, but it's neat to think that some families look forward to their summer vacations here all year long. During the magic hour before sundown, no matter where you're from, it's pretty magical to sit among palm trees, rollercoasters, blinking lights and air thick with the scent of popcorn and cotton candy.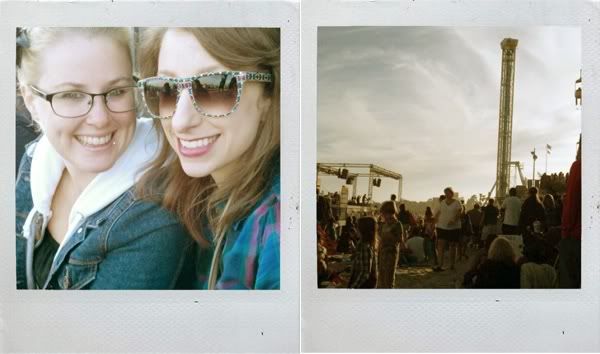 After Berlin banged out some of their [80's] hits, like The Metro, Masquerade, and Take My Breath Away, we headed downtown and saw our friend's band Tater Famine play. Nothing like Berlin, the famine is a rollicking good time. I say, there's nothing better than being able to sing along and dance with your friends. And foot-long corn dogs. It was a fun weekend.
I wore cuffed Kill City jeans from Crossroads, a floral H+M top, and Target wedges.