A while ago a reader asked for a tutorial on how to make those versatile stretchy strips of fabric sold at American Apparel as The Sash. It's a pretty rad accessory that can be worn multiple ways: as a belt, sash, scarf, necktie, turban, etc. It is also probably the single easiest thing to make, but I've just been putting off writing the post. Messing about with blogger takes much longer than actually making the belt! I also ended up using extra dye to turn my sash turquoise for the after photos, so don't get thrown off. All you really need is a piece of jersey (also known as t-shirt knit)!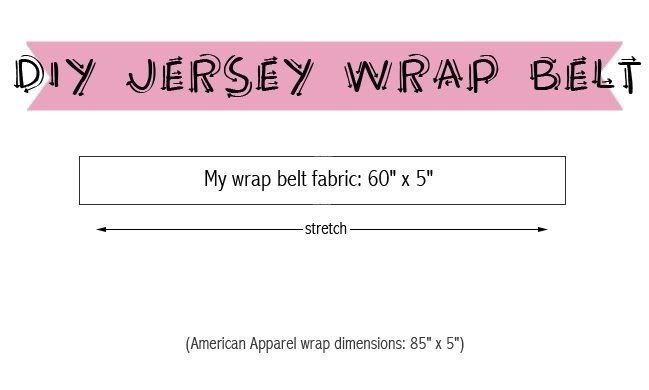 What you'll need:
- 5" or 1/6th yard jersey knit**
- 5-10 minutes
- scissors
**The stretchier the knit, the better the sash will fit and hang, so be sure to give the jerseys a few tugs. I used a fabric similar to men's t-shirt weight—
not
the most flexible. Swimsuit lycra and stretch lace are other fun options. American Apparel's sash is 85" wide, which allows you to wrap it around the waist or head multiple times, instead of just once or twice. In stores, jersey generally comes 60" wide, so a simple 60" by 5" piece shown above should be very easy and inexpensive to acquire. I had a fair amount of leftover beige jersey, so I just cut a 5" strip off of that. If you'd like, you can cut out two 50" by 5" pieces and join them together at a short edge to create a longer sash. Also, ya don't
have
to make it 5" wide; that's just a general guideline that matches the store version.
Jersey fabrics don't really unravel, so you don't have to worry about finished any edges. If you'd like, you can trim the short ends at an angle to add flair, or use pinking shears for a sweeter look. Heck, you could pink the entire rim of the sash! Or make a wider sash and cutting in fringe... oh my, I'm getting more ideas! Are you?!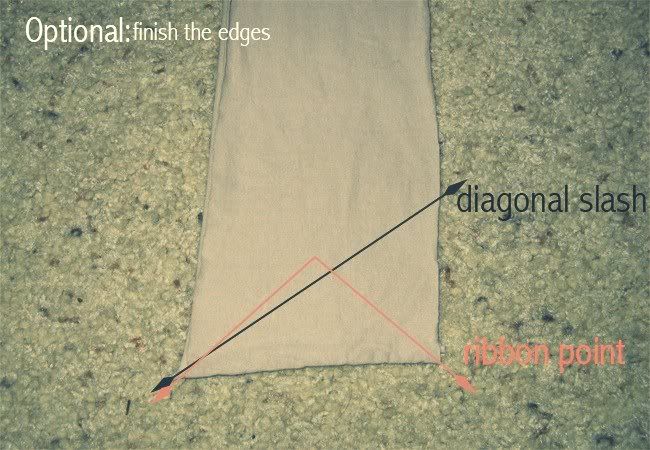 Okay, now it's up to us to animate this lifeless scrap! I tried to show the basic variations, but I'm sure you can come up with more, especially if you make a longer one. Bandage dress, anyone? ;)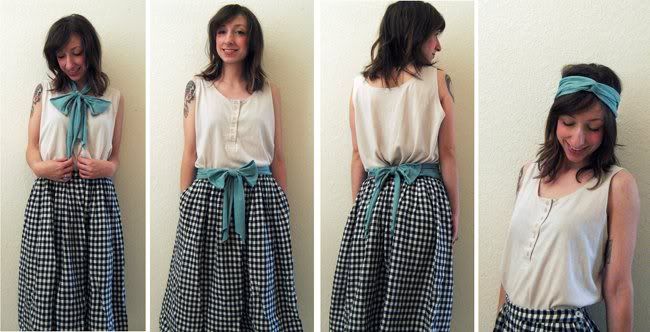 P.S. I always try to answer any questions in the comments so everyone can benefit, and I love love love it if you send or post pics of your creations and how you live in them!