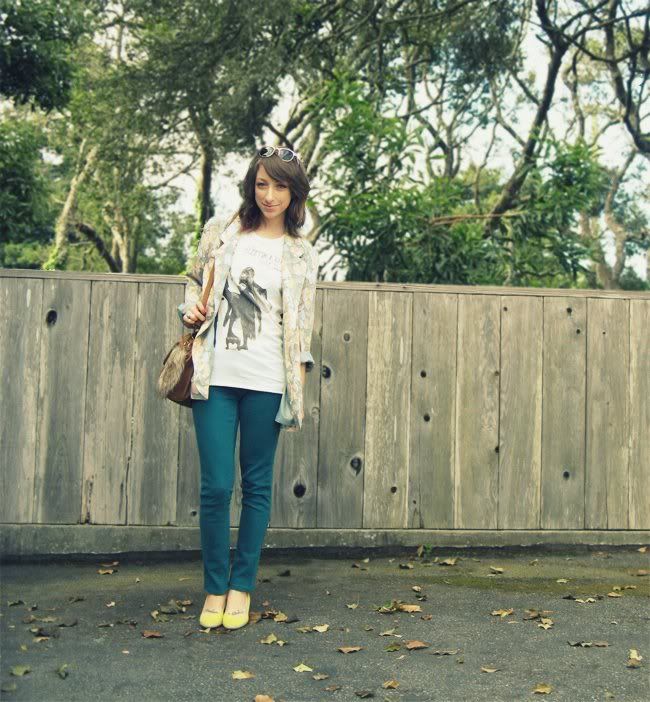 Remixing ideas:
&bull: girlier: swap the pants for a twirly teal skirt
• for night: black heels, black blazer, and a sequined clutch
• festival: swap the wedges for strappy sandals, lose the jacket, cuff the jeans & pop on a floppy hat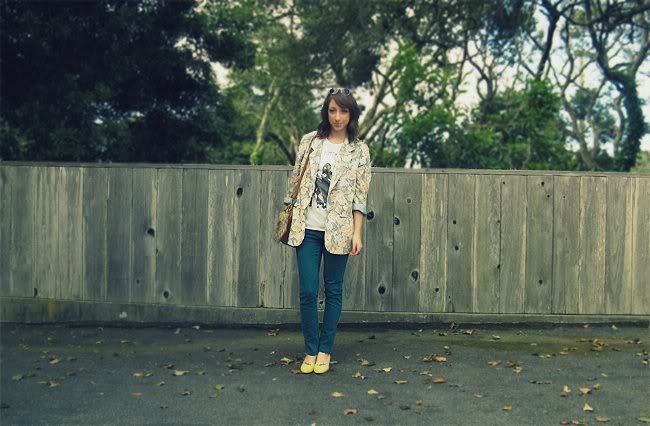 My boyfriend and mom totally wanted to steal this Fleetwood Mac shirt, but I took it in so much they can't wear it. Well he could probably fit into it, but the tight tee isn't really his thing, thankfully ;) And even though it's a shirt featuring the queen of long drape-y layers, I wouldn't want him to stretch it back out! If there's anything better than dressing like Stevie Nicks, it's wearing her dressed up as herself. I'm sorry you can't see it, but she's wearing black toe shoes. There is an interview with her (as well as ones with Gaga and DVF) in this month's Bazaar magazine (the only mag I've bought this year, dang!) that is pretty interesting. Some of her stylish advice is: don't do too many drugs, embrace platforms over heels, and use top hats to add height (she's only 5'1"!)
Worn:
cheap sunnies
tail \\ H+M
t-shirt \\ altered
wedges \\ Target
bag \\ Kimchi Blue
Pendelton blazer \\ thrifted
Kill City jeans \\ Crossroads
*Oh and if you were wondering what "tail" and "bag" I listed in my last outfit post, I meant these. I forgot to actually photograph my purse last time, whoops!
Thanks to the
color blocking posts
and my new-found love of wearing colors as well as just admiring them, I have been considering starting a sewing challenge! It would be something along the lines of making a skirt and top out of matching fabric each month, choosing colors my closet is lacking. Worn together as a dress, or mixed up as separates, after a year I'd have almost limitless mixing options! I'm a jersey girl (only when it comes to fabric) so this project would be economical, simple, and yield great results! What do you think?