After going home sick from work and spending another fifteen hours in bed, I'm feeling greatly improved. Hopefully after sleeping in extremely late tomorrow, my birthday weekend extravaganza can begin in better health! I'm planning on taking the BART to San Francisco to stay with my friend
Dorey
for the night. She lives in the Sunset with a spectacular roof view of the ocean and city. Plans include seeing Warpaint at the Independent (they're also playing at Amoeba Music for free tomorrow at 6 p.m.!), eating, drinking, catching up, and possibly photos.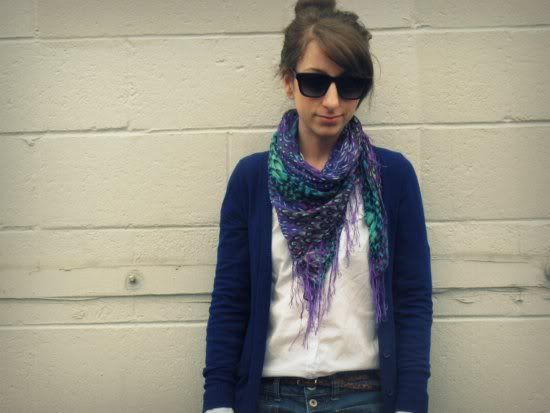 I know these aren't the best fitting wide-leg jeans in the world, but I'm newly obsessed with them again because of my new wedges. I haven't worn this electric blue cardigan in a long time, but I decided it went well next to one of my favorite colored scarves. We got a shipment of new sunnies at work, which of course means I'm adding to my collection. I love cheap eye wear; I know they don't provide adequate UV protection, but darn if I don't scratch every pair, so paying four dollars for them is quite fine by me. All the best styles I ordered were out of stock (or course) so I'll have to wait for those...
blouse \\\ new york & co.
pants \\\ via crossroads trading co.
** Thank you for all your well wishes on Eric's hurt back and my cold! He got a gnarly injection yesterday and is on his way to recovery :)
** Meg - Regarding that houndstooth top I made, I basically just used a bat-wing top I already had as a basic pattern.