Hello everyone, it's a new week in a new year. Wooooot. Anyway, as of yesterday I completed one month of the self-imposed "COMMENT MORE" campaign instigated by an IFB article. According to my hash mark covered post-it, I left 155 comments on other blogs. Folks, that's more than one hundred more than I normally do. The girl in the article set a goal of about 250, so, yeesh! I think I'll keep this habit up. By stopping and commenting instead of just flicking by everything and by trying to check out every blogger that takes the time to leave a comment on my own blog, I've felt a better connection with other bloggers, discovered some new blogs to follow, and gained some new and active followers, to boot!
Sometimes my mind does weird things to me like forget about shorts and tights in wintertime. Rearranging my room and closet really helped on that front. I feel like I have more variety at hand. Yet somehow I'm wearing the red jacket again. Le sigh. Oh well, don't you think it worked? I wore this to work and then afterward, I chickened out of going to a nearby bar for trivia night, alone. Sure there was a cute smart boy there, but I just couldn't do it, and now I'm kind of kicking myself. Well, I've got to just let that one go, and try to keep it mind next time... next time...
This is how short I am compared to the closet. The clothing rack is actually at the very top, behind the horizontal decorative frontpiece. Tip-toe through the tulips is all sweetness and light, but tip-toe through your clothing is a little hard on my Black Swan-less point abilities. Someday I'll get less lazy and get some dowels to create more tiers for the closet. Until then, I'm going to sip this hot cocoa with generous whipped cream, read the end of Margaret Atwood's The Year of the Flood, and sleep in my freshly made bed and pillow nest.
♥
I can't stop wearing these shoes, either. Except they're already showing the wear! Should I stuff a cotton ball in the point of each toe to support it? I understand they are cheap shoes, but c'mon, three wears and already I had to color in some scuffed toe spots with a sharpie. Silly winter purchase, perhaps. I do like them a lot though, they're actually as comfy as round-toe shoes, especially since they're roomy enough for insoles :)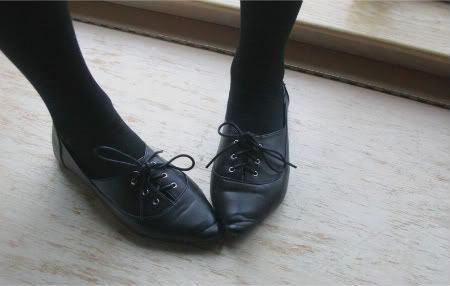 ♥ hat - bunny's
♥ jacket - wet seal, sale
♥ shorts - cut-off thrifted jeans
♥ two pairs random black tights
♥ the stupid sweater peeking out from under jacket - uo
*By the way genius gals, is there a way to make your flickr photos private to people who aren't in the groups you post in? Flickr weirdness is making me want to shut it down. On a more positive note, you
can
feel great if you like and use twitter, because
now I have one
. I wasn't sure this day would come, so I need to be more verbose on the blog so I don't turn into a hyper cyber cave woman.