Telling myself that a blue sky is a good opportunity to wear my new sheer tights. Well I've been wrong before, and I'm sure to be again. Brr! 46° just ain't my style. I drank hot water all day! Ok, I know I shouldn't complain... I like the tights. They were on sale and have an interesting plummy/purple color instead of the usual black—plus hearts! I found them yesterday on a last lunch-and-clothing-browsing with my best friend on my lunch hour before she went back to southern California to school. Wah.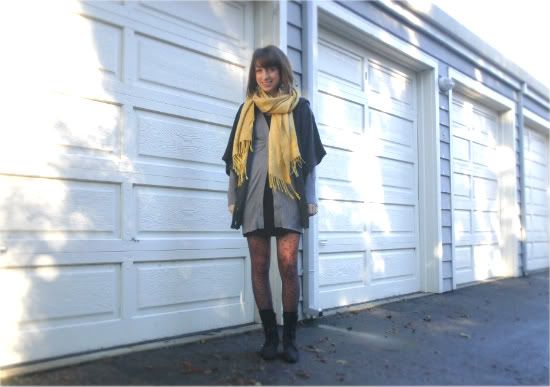 I really need to get back to sewing. I still have a wonderful gift certificate to Beverly's Fabrics, but I just always feel too sleepy after work to go and dig through stacks of remnants looking for some gems, browsing the towering yarn aisles, and fawning ridiculously over little cupcake-shaped jars or pretty much anything penguin-y, which I tend to collect—aka "pounce-n-pay" in a feverish and strange, giggly rush. I know, I have problems.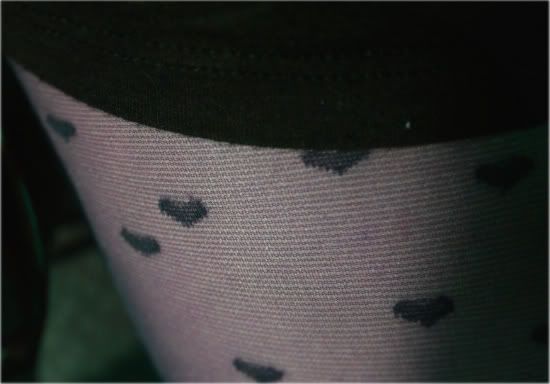 ♥ scarf - via crossroads trading co.
♥ kimono cardigan - f21
♥ long grey cardigan - target
♥ skirt - diy (altered from a dress)
♥ tights - gap, sale
♥ boots - via crossroads
Now that it's January, it's time for me to think of money. I'm settling down/cramming myself into savings mode. For me, that means trying to follow some guides: ♥ try not to spend any money, except on due bills, for the first few days after a paycheck (this should help me avoid my overspending habits on the first day) ♥ transfer the profit of any
etsy
sale to my savings account ♥ reign in my spending habits (uggghhh gap tights, and undies...)