No photo from yesterday. I am really grumpy about my camera quality. How do I keep breaking CF
cards? Sigh... Breaking out some watercolor pencils is much more fun for me this way. If I should
want a crummy, grainy picture, I should just draw it instead! Except trying to do plaid; it is very
difficult for the novice. The weather was miserable, but I was cozy in some knit tights, hat and
boots. Bring it on, Winter!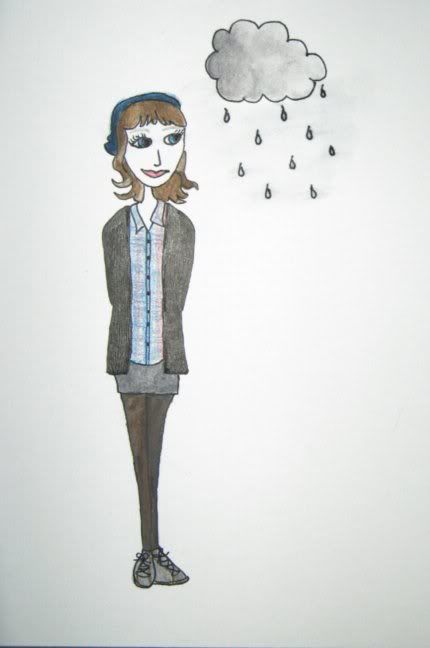 Since it was requested, here is the yummy recipe I used to make Butterscotch-Chip Oatmeal Raisin
cookies last week. Experiment with the added goodies (do coconuts and raisins go together?) and
try making a half-batch, since you'll probably eat them all the first day ;)
Oatmeal Raisin Chip Cookie Recipe
(yields about three dozen)
1 cup butter, softened
1 cup light brown sugar, packed
1/2 cup white sugar
2 eggs
1 teaspoon vanilla extract
1 1/2 cup flour
1 teaspoon baking soda
1 teaspoon cinnamon
3 cups rolled oats
1/2 to 1 cup raisins
1/2 to 1 cup chocolate chips, butterscotch chips, white chocolate, M&M's, etc.
♥ Pre-heat oven to 350°
♥ Mix the first 5 ingredients listed in a big bowl. Separately mix together the next 3 ingredients, then stir the dry mixture into the moist mixture.
♥ Stir in the oats, raisins, and other goodies. Drop by teaspoonful onto ungreased cookie sheet.
♥ Bake 9 to 11 minutes; let cool 2 minutes before removing from pan