Still feeling sore-footed after ten hours in wedge boots yesterday, today I opted for comfy slip-ons (made with bamboo!), jeans, and a cargo jacket. Still, I gotta remember that the best thing you can wear is a big smile & good posture!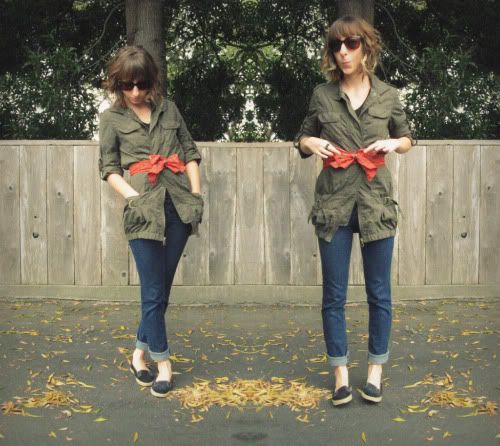 My co-worker said I had a "girl-scout thing" going on today, which I didn't occur to me when I was getting dressed because a) I thought girl scout uniforms were brown, and b) I wasn't lucky enough to
be
a former scout anyway. It did make me consider finding some thrift store patches for the sleeves, but only for a second. I don't need to end up looking like Lieutenant Dan with a sash. The olive khaki color of the jacket matched the pattern on a red scarf/belt a friend gave me, so I tied that on, too. I love seeing bows on other girls, but I still feel weird when I try it. Kimono-Cargo?
I've been wearing these feather earrings almost every day. I keep looking out for pretty bird feathers on the ground, though I'm not sure if they would carry disease. Where did
these
feathers come from?!
earrings: claires; jacket: wet seal; belt: gift; jeans: wet seal; slip-ons: vans