I'm not a big fan of lightwash denim or the denim tuxedo look, but I was still excited to find this shirt in my mom's closet. I decided to pair it with black denim and some bold gold accessories to spice up the simple outfit. This summer has been less than ideal, seeing as the shirt is a brighter blue than the sky. We're starting to get heat waves now, as Indian Summer advances upon Santa Cruz.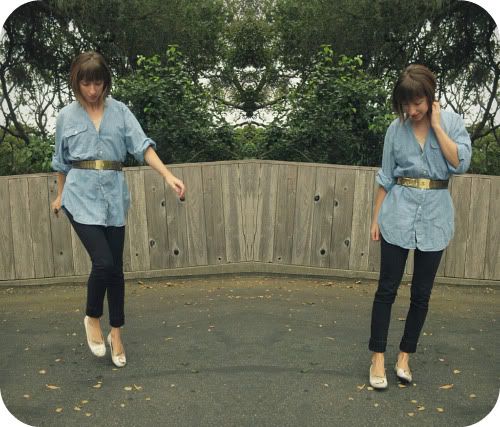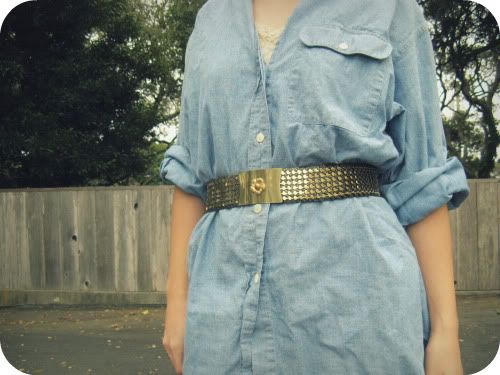 shirt - mom's closet, ($0); lace tank - thrifted via Crossroads Trading Co,. ($4);
belt - Blue Bee sale, ($26); black jeans - Wet Seal, ($25); shoes - Classified, ($20)
While my computer was in the shop these past several weeks, I spent a lot of my suddenly-free time painting my nails. While I catch up on some outfit posts, you'll also have to bear with my nail fetishism snapshots, too :) This day I was particularly obsessed with ombre. Excuse the dry cuticles, I've been slowly switching over to all-natural products, and I haven't tackled polish yet.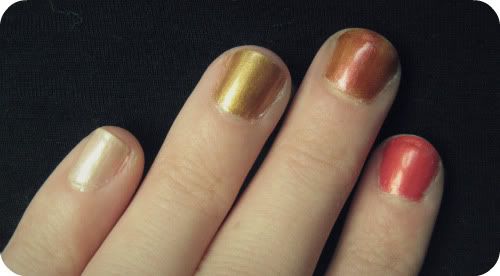 I get giddy over makeup and paint names. Strangely so.
L to R: Love Letters, Gold Lame, Golden Topaz, Blaze.
How are you spending your Labor Day weekend?