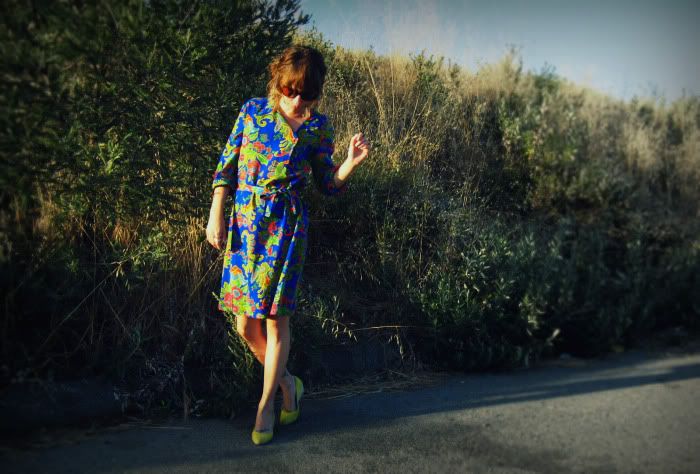 I found this vintage dress a few months ago and have only
worn it once
before. I love the psychadelic colors and print. Can you believe the label says it's a size 12? I have to mention that I live in a town full of aging hippies, and I was really catching the eye of old men today; maybe I reminded them of their long-lost love at Woodstock? Or of some wonderful acid trip they had as a youth? Let me just say, men over forty don't generally tell me "that's a great dress." I guess I need to find some trippy fabric and start making loose dresses! While trying to figure out "against the sun" photos (any tips? Do I have to use the flash?) I realized that the dress is see-through in the light! Good thing I was inside most of the day, I think one of my co-workers would have warned me if it was
that
bad...
When I was taking it off for post-work shower time, I ripped open the front seam, whoops! I can fix it! I bought these c
anv
as
wedges three years ago
and I c
an't believe how much I we
ar them now. They s
at
in my closet for m
any, m
any,
m
any
moons, but h
ave
been revived. Now I need to figure out how to cle
an them!
dress - thrifted | shoes - target
The Weekend's Yays
♥ a nice relaxing day at the beach, watching seals cavort in the ocean and cute dogs being walked ♥ a delicious dinner of cesear salad, sourdough bread & spinach dip, pasta w/artichoke basil sauce, & cheesecake for dessert ♥ sleeping ten hours last night ♥ "tipsy" arnold palmers: sweet tea vodka + lemonade ♥ a sale on etsy! :) ♥ learning how to make crocheted bows - yarn spree ahoy!
What made you yay today?