I worked on Mother's Day, so my mom and I celebrated on Saturday. I drove us, Oreo and a little chihuahua friend up Highway One to Davenport for brunch and some sight seeing. I couldn't decide between fresh blueberry pancakes and huevos rancheros, so I had one of each haha. It was delicious. There's a teeny tiny one-room "jail" behind the restaurant that was built in 1914, and my mom loves to go peek in the windows every time we go up there. I had her take a few photos as proof that I'm sticking to
Me-Made May
. I don't know what happened to Rose or her Jail Garden, but maybe that single pink flower is all that's left!
It's supremely windy in this particular part of California, so it's always a challenge trying to dress for a trip North, even though it's only about 25 miles away. We went down the cliffs to the beach for a bit so the dogs could play, and we lay our full bellies in the warm sun while the wind whipped sand into our faces every few minutes. When we left I had sand in my pants, in my eyes, stuck to my face! It was so beautiful though.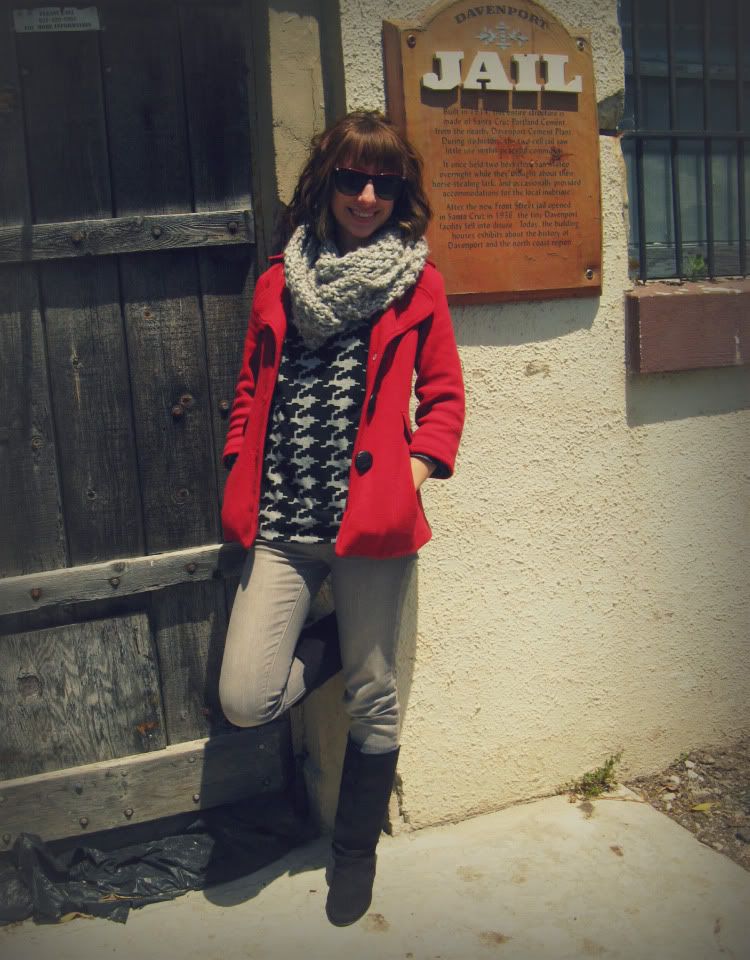 top
- self made |
scarf
- self made |
DIY jacket redo
- forever 21 |
jeans
- wet seal |
boots
- steve madden
The houndstooth-print top is made of a thin sweatshirt material which I love. I have some left over and am thinking about making it into a skirt. I'm also not a big knitter, but I found some enormous needles that made scarf making a lot speedier and more satisfying. The great thing about infinity scarves is that they don't fly off in windy weather!
The Day's Yays ♥ quality time with mammy ♥ watching my little terrier wrestle with an even littler
chihuahua — priceless ♥ Choco-Latte body wash mmmmm ♥ a good hair day ♥ fresh, soft while towels