I've been enjoying the look of scarves worn as long, draped bowties on gals around chictopia. When I tried it myself, I realized you really need a particular length and width to achieve the look. None of my silky scarves where long enough, so I used this strange, lacy/shredded black one that reminds me of evil spiderwebs.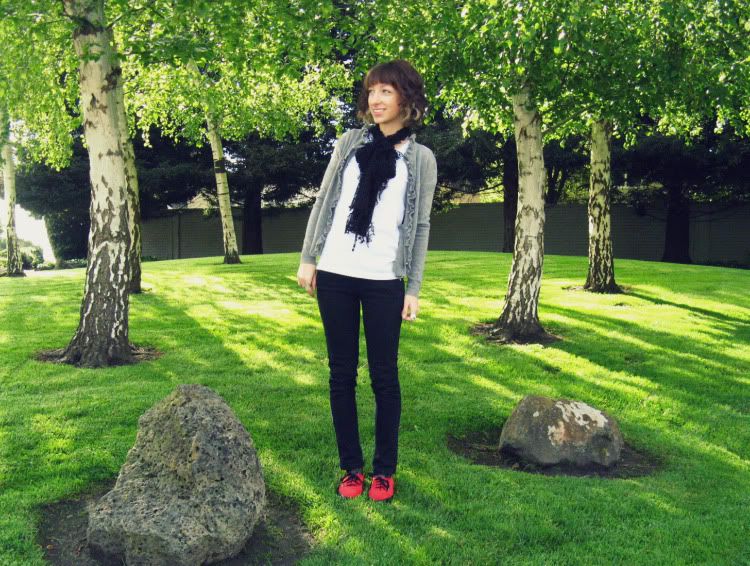 Basic tee, cardi, and jeans rounded out my first foray into neckwear. I couldn't resist my bright red velvet Vans, but I'd forgot that for some reason these shoes are much more uncomfortable to stand in all day than even the cheapest ballet flats. Ouch!

I drove a different route to work today, inspired by an
interview I read
. I just discovered the blog
www.makeundermylife.com
, and her awesome archive of "Design Your Life" interviews with other bloggers, including my fave, Tieka of Selective Potential! I have been reading one every morning to get some positive ideas for the day. Going right instead of left today took me by this stand of trees on the corner that I have always admired and wanted to take pictures of, so I stopped and did it! It was weird having cars driving by, but worth it.
cardigan - new york & co. | tee - american apparel, via crossroads | scarf - pretty mama
jeans - wet seal | shoes - vans, via crossroads | trouser socks - target
Sometimes shopping for tea
is just as exciting as shopping for clothes! I ended up getting Decaf Green Te
a
with Peach Infusion.
What's your favorite kind of tea?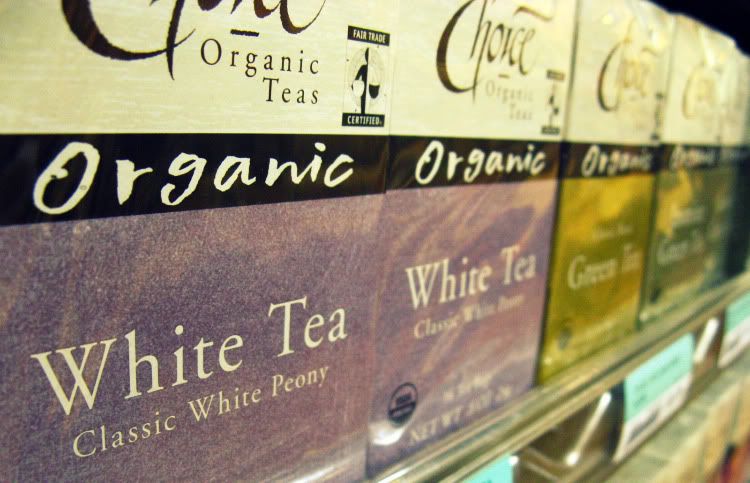 Things I Loved Today
♥ the
strawberry-rhubarb candle
my grandma sent me from Germany—it makes my room smell like a sun-warmed field of strawberries! ♥ sticking to a strength-training schedule: one week today, woo hoo!
I feel stronger already
;] ♥ 47 hours of retail in the past 5 days, phew I'm glad
it's all over for
three days
! ♥ that num nummy Fuze
Strawberry Guava drink
with vitamins and calcium (jeez I'm obsessed with berries right now) ♥ finishing a diy
studded wrap belt
that I can't wait to wear!