I'm the kind of girl who loves perfumes; I love smelling good, and I enjoy it when other people smell yummy when you hug them. I've got a disgusting array of scented lotions and body sprays in my bathroom drawers that end up unused. I usually grow tired of a scent before I use it up (the only perfumes I've bought more than once were Ralph Lauren's HOT and some pink drugstore Olsen perfume). Scent becomes tied in with certain times in life, and I no longer enjoy any of my perfumes and their associations...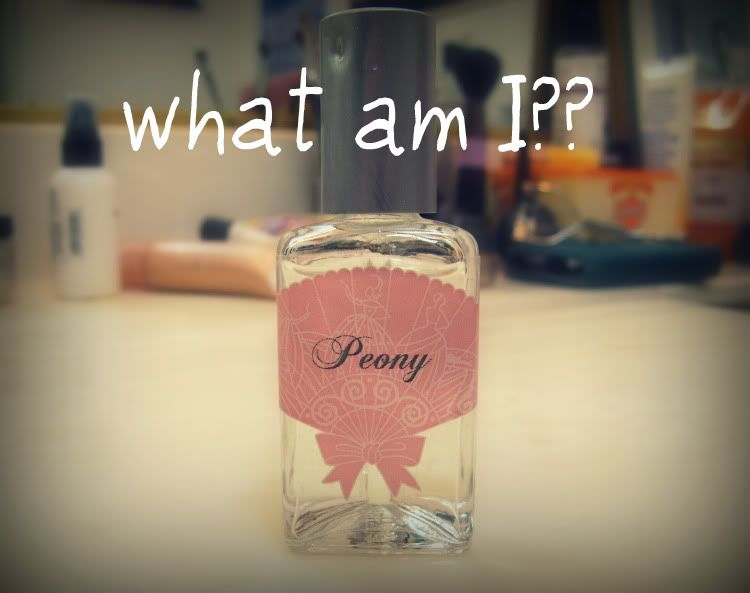 THEN I discovered this dinged up, adorable little bottle flying around the back of an Urban Outfitter's sale cubby last month. I've never smelled a peony and I doubt it's true to life anyway, because what this smells like is my favorite cocktail, the St. Germain (champagne, elderflower liquor, lemon)! It's amazing and I'm posting this because I need your help in helping me find out how I can get more! The clerk said it had been part of a set, so that's about all the information I have: Urban Outfitters, part of a set they don't sell anymore, Peony.
Can any of you lovely ladies tell me if you have this perfume or know the brand? I'm not even halfway done with the bottle, but I'm already becoming very sparing with it. I like wearing it to bed, but then I don't want to use it during the day, too. Wow, I am a freak. Help a freak out!