Well, I got my birthday weather wish! People tend to assume Santa Cruz is like Hawaii, but even in summer it's often overcast or we're drowned in coastal fog, which makes this week of amazing sunshine even more wonderful!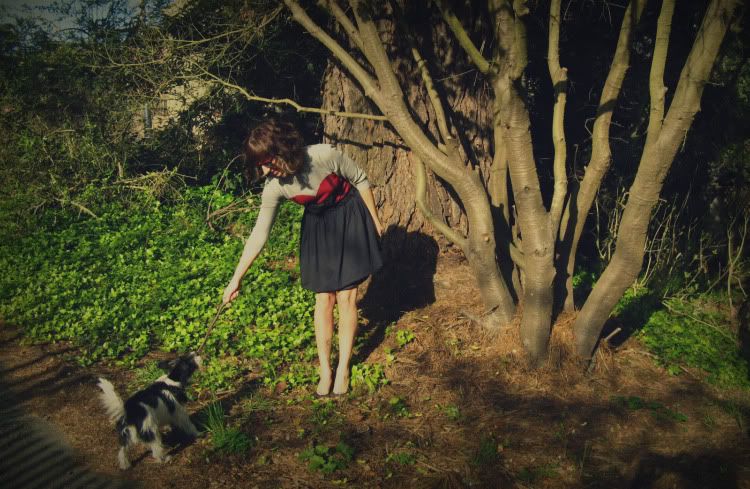 This is what I wore on my 26th birthday to meet up with some friends for drinks and wimpy burgers (that's just the particular establishment's funny name for sliders) and a quick game of pool. So yummy. What's even yummier was not needing to wear tights!! Until the sun went down, I was even a little too warm in a sweater and two skirts, though my teeth were chattering by the time I made my way home.
My dog did not want to be caught for picture taking. Running after her in heels must have looked pretty funny!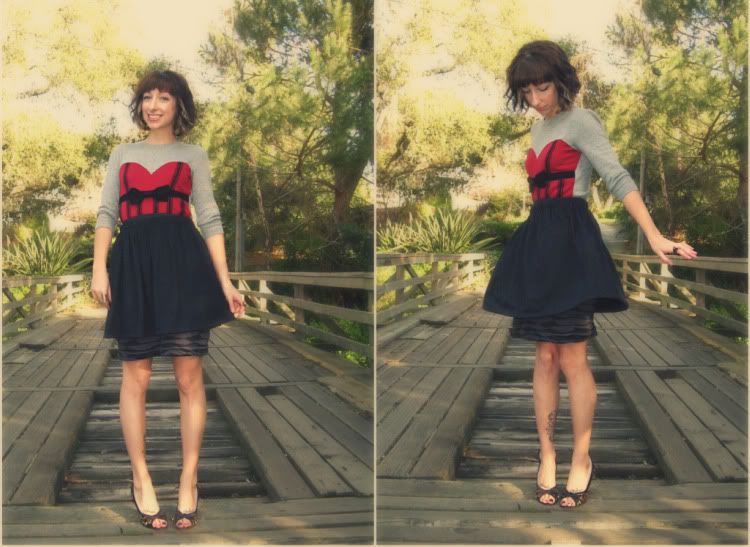 top
- forever 21, 3 mo. old |
skirts
- self made |
shoes
- style & co., 3+ yrs.
I love this top. The underwear-as-outerwear thang is pretty cute when done right, but in reality it's not a look for me. I wish the red extended around the back, but hey, you can't expect too much from Forever 21. While trying to decide on which skirt to wear, I liked the look of the layered skirts and just left them both on. I felt a little princess-y! The leopard print heels are my favorite "special occasion" shoes; they only come out a few times a year. They're surprisingly comfy, though. It's nice to really dress up and feel special.
5 Things That Made Me Yay Today
♥ managing to sleep until 1 p.m. (quite a feat for someone who usually wakes up around 7:34 each morning for no reason whatsoever!) ♥ my friend leaving an epic birthday song on my voicemail, then singing it again when we talked later ♥ slices of giant fruit tart with strawberries & mandarin slices ♥ a lovely walk on the beach & spotting a tiny ladybug in the sand ♥ discovering this bridge nearby that I didn't know existed