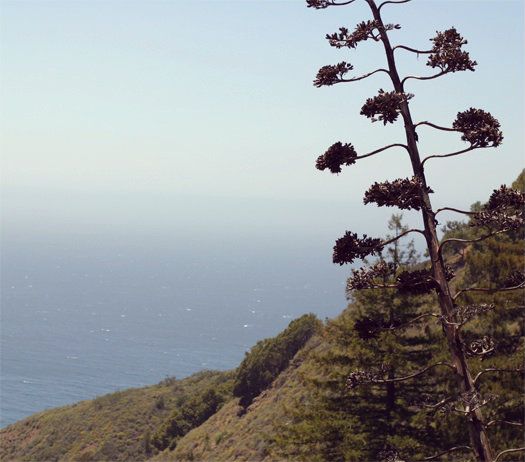 macy's blouse via crossroads trading co.
vintage dooney & bourke handbag • daniblack shoes via crossroads
On Saturday Eric, Oreo, my mom and I headed down Highway One to Big Sur for a belated Mother's Day treat. Lucky lucky us, it was a beautiful day. I would have worn cropped pencil pants to complete the starlet-on-retreat vibe, but I settled on my trusty jeans, cuffed. We had lunch at Nepenthe, a lovely place overlooking a pristine expanse of Pacific Ocean, and walked to a little forest waterfall in the hills afterward. It was actually almost a hike, so I switched into Van's for that part. Stay tuned for more photos of the trip (and food!) later this week ♥
P.S. That brown plant is an extremely tall dormant agave plant. Usually they're around man height; this one and it's partner are growing close to thirty feet tall!