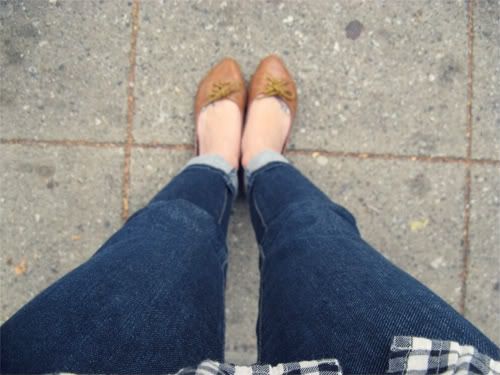 Vests are going to be my thang this Fall! I just cut the sleeves
off an old jean jacket
, and I'm looking for a thrifted khaki trench to chop up, too. I never thought I would miss layering this much! And soup; I had spicy bean tortilla soup for lunch and it was heavenly with the season's first drizzle. The white sky actually looked pretty, almost as nice as this little kitty, whose name is Nova.
I had to dig back a few years to find the
"before" post
for this jacket. Oh, cheap boring ole black trench, how glad am I that I never gave you away? You were first cut into a short sleeve jacket, then a vest. I added some studs at the collar this morning, and it's all new again! I'm wearing a secondhand gingham blouse from Crossroads, Wet Seal jeans, and Dollhouse flats. I also recently made the chunky studded bracelet, you like? I'm thinking of making another with plum and wine thread...
Happy Tuesday! I'm already counting down for the weekend: relaxation time in Carmel! Fooooood!