The sun is shining, I'm not working, and though it's not as warm as it looks, I've really enjoyed my Thursday. It's not over yet, there's still 80's night to attend. I slept in, caught up on my blogroll, read in bed with my pup, did a bit too much shopping for this week's budget (sorry next week) at Pretty Mama, and finally used some of my gift-card at Beverly's. Fabrics I found some awesome black-and-white skinny striped fabric for skirts and pretty blue yarn for the easy crochet scarf tutorial I'm planning. I'm liking this year very much so far!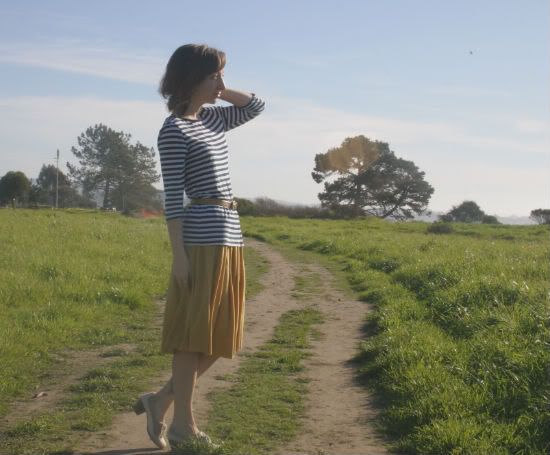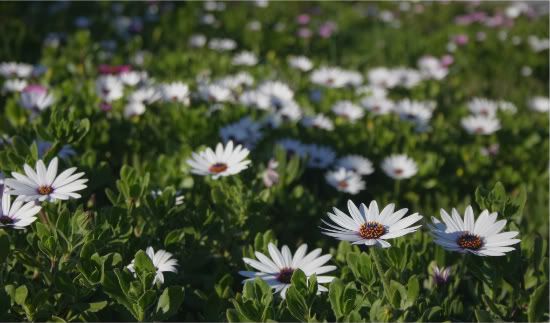 I love this meadow near the sea. Last summer I took some photos here when the wild-grass and flowers were super tall. I guess in the middle of what's technically winter I shouldn't be expecting a riot of flora. There was still the vivid shades of grass, sky and ocean, as well as some happy white flowerbeds. I love this skirt, too and was so happy to have "found" it the other day after being unable to locate it for weeks. I'm thinking of doing a tutorial for this one too, since it has a nice waistband (which you can't see sorry) and is super cheap and simple.
Oreo of course wouldn't participate in photos; she spent most of the time sniffing one clump of grass. I had to drag her into this one. She doesn't understand cameras or her online fan club, I guess.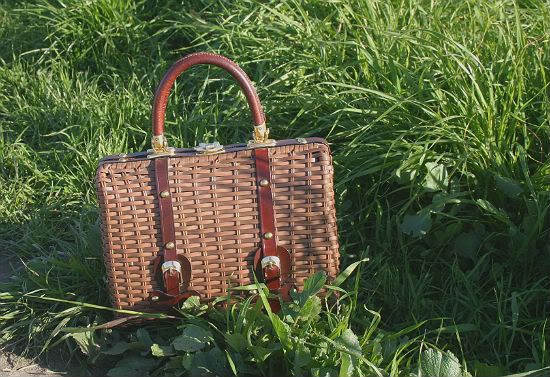 This purse isn't new but it's only making it's blog debut today. On Oreo's birthday we took her to the fancy dog store for fun treats and cakes, and since there was an estate sale next door, I couldn't resist poking around a bit. I found this awesome bag, along with a patent leather and raffia stunner I'm thinking of listing in the shop soon.
Tomorrow the boy and I are going on a little day trip down the coast to some magical area he wants to show me. I'm charging my camera battery and cleaning the lens (whooopsies) and can't wait to show you some Big Sur splendor! I hope you all have a fabulously relaxing, peacefully exciting, lovely weekend!
striped top \\\ target
mustard skirt \\\ self-made
vintage belt \\\ thrifted
shoes \\\ rachel comey via crossroads
bag \\\ estate sale
earrings \\\ locally made