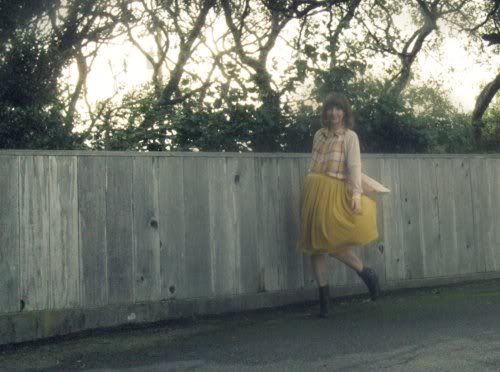 I couldn't resist the mustard skirt again. It's just so comfy and fun! I'd forgotten about this yellow plaid tunic passed down to me by a friend, but when I saw it, I knew it needed to be paired with this skirt. Lucky for me, it wasn't too cold today, since the blue sky tried and tried so hard to make an appearance. I know you might not be able to tell from today's light 'n airy errand outfit, but I am getting so so excited for the holidays! I got some good gift-shipping under my belt, I'm going to try to recreate the delicious hot dogs I had in Long Beach, and it's the first year in many that I'm not working! Should be fun times.
cardigan: forever 21
blouse: hand-me-down
skirt: self-made
boots: secondhand via crossroads
earrings: cost plus
I just found these pretty earrings with owl charms last night, and they were literally the first thing I thought of this morning. I wore black boots to add a twist to an otherwise soft, dreamy palette. I tend to want to wear all black, just because it looks so good and requires less thought. It's strange to think I can be so lazy, yet never do I leave the house unmade-up and in pajamas...