Okay, now I will be the first to admit that I have a strange new obsession with long full skirts. I found this vintage one while I was trading in clothes at Crossroads Trading Co., and am so hooked. It's warmer than jeans, I think! I have two big pieces of fabric waiting to be transformed into the perfect winter compromise. Don't let that pretty sunset orange glow fool you, it's cold!
Thanks to IFB recent post
The Comment Challenge
, I took it to heart yesterday evening and so far have commented fifteen times! Kind of a record for me, I have to admit... This is a wonderful idea though, to spend more time reading, responding to, and crafting more thoughtful comments. Here's to December!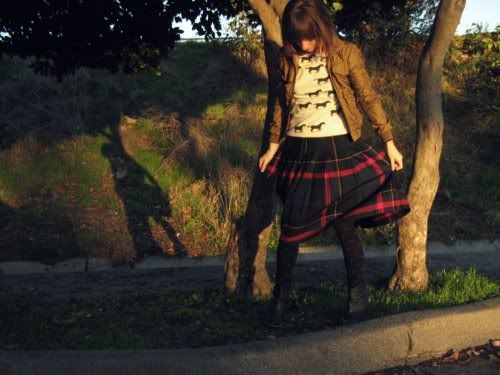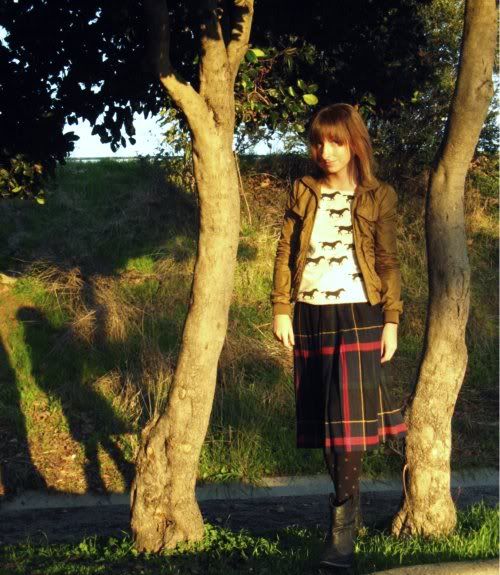 skirt, top: via crossroads; tights: forever 21; boots: journey's sale; jacket: wet seal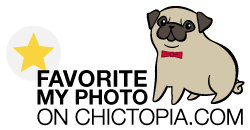 I couldn't resist the new horse sweater again. I want to live in that thing. That and the new tights, I think I'm set on prints now! I've recently downgraded to instant download only status on netflix. I think I'm just gonna keep this copy of The Young Victoria and pay the $10 fine (I love that movie) and just not bother with DVDs anymore. I'm doing a lot of crochet work in my free time and love watching/listening to So here is where you come in: what are some of your favorite things to watch online? I'd love to hear from you about your favorite shows! I've been watching Buffy for far too long now! Help!