I wore this dress two days in a row, and it's on the way to being my favorite dress. It has Pockets, which are always phenomenal, and when it's not so cold outside, I'll show you the sleeves. I'm thinking it would make a really easy diy winter dress, since clear blue skies and crisp cold temperatures are abounding. However, I found out (again?) that loose scarves do not work in winter. Only looped or knotted when it's 46°, please.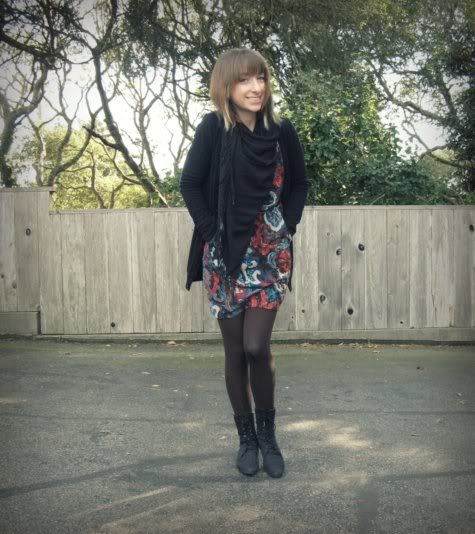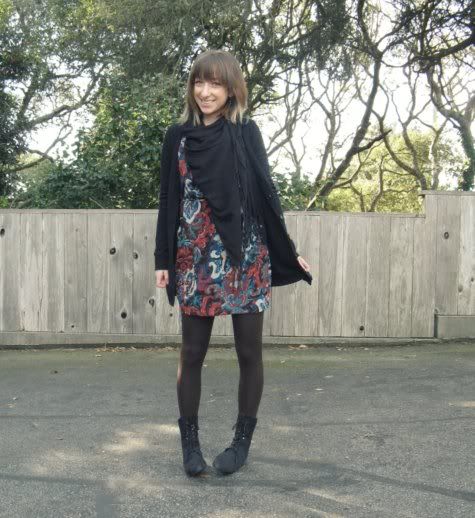 I love being able to wear my "odd" tights with this dress, too. What is that pattern, anyway? It's a mess that reminds me of psychedelic painting spills, 70's furniture color, gothic wallpaper, paisley...
dress - forever 21; cardigan - tresics; boots - vintage, via crossroads;
tights - 1 hue 2 aa, via crossroads
I can't believe we're going into December already! This year seems almost to have flown by, while almost nothing really happened! I am all too ready for a new year, though. I know it's corny, but I really do feel a bit lighter with the promise of a new year. Life is a just compilation of sound bytes, pages in a book, a stream of moments
—
yet it's still exciting to start a "new" year, a fresh page on the calendar, or a whole new one altogether.