Hrmm, after looking at these, my faith in my new sweater(s) is intensified, and I think I need some new black jeans. These are so mucked up! Or does anyone know what to add to the wash to "ring back the black? Is it vinegar?
I found a somewhat vegetated corner of a parking lot near work to take pictures in on my lunch break, since I've been running too late in the freezing cold mornings. This spot invited a little swinging in the trees, but I felt self-conscious and stopped pretty quickly. You'll see some of that soon.It's really strange that I'm more uncomfortable with the swinging in public part, not the whole self portrait thing...
Oh, did I forget to call your attention to the horses on my top?? Yeah, I was smitten the second I saw it at Crossroads while I was trading in clothes; I bought it without trying it on. With the belted sweater and another long-sleeve, I was layered up and ready for the cold (plus a jacket). My only problem with the sweater is that it needs to have pockets. I might add some soon, since there's so much indoor netflix-watching time now.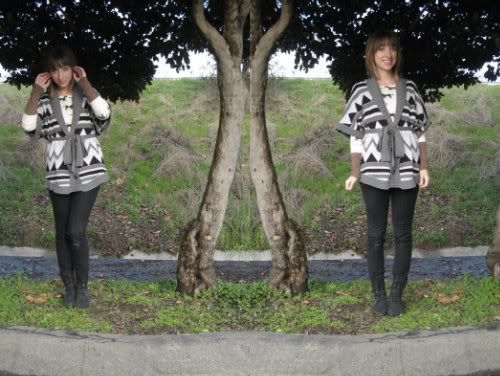 sweater: forever 21; horse top: via crossroads; jeans: wet seal; boots: vintage, via crossroads
I rarely (as in once a year) wear lip color, but I've decided I might like the look on me after all. I wore this lipstick on Thanksgiving too, and while it wasn't super bright at meal's end, it was still there! It's got a great little balm on one end to add shine and moisture, too. I wish Maybelline SuperStay lipcolor came in more colors...
Happy December everyone!!