I've never been into buying expensive tights, but since I "splurged" on these sheer polka-dot babies after my cheaper sale pair ran amok a few months ago after maybe 6 wears, I might be more willing to invest a bit more. These are so much thicker, silkier and softer!
Please say hi again to the ring I can't stop wearing and my new favorite nail polish
— it's called Wet Cement, haha!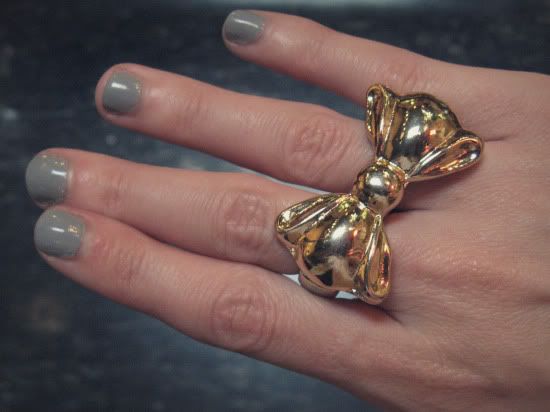 sweater - New York & Co., via Crossroads Trading Co., ($8); skirt - DIY

altered
dress, see below*, ($0); tights - HUE, ($12); flats - Payless, ($15), ring - Crossroads, ($8)
After several months of wearing full skirts, I wanted to slip on something more, well, tight. I guess I'm going in the opposite direction of current trends, but whatevs. I had a too-big dress given to me by a curvier friend that I wasn't sure what to do with, until the obvious hit me. I cut off the top and made it into the perfect basic comfy jersey skirt that I'd been missing.
*Here's the dress before: