I could not wait to try out my new boots. For weeks I have been looking for (preferably gray) low-heeled ankle boots that I could wear all day, with a lot of skirts/shorts outfits. I'm sure you short girls understand the power of an extra inch or two. I have a feeling I'll be wearing these a lot.
However, my outfit was very uninspired, mainly because I have a sinus infection and I feel out of sorts. Before work this morning I stood in front of the closet wearing nothing but the boots, trying to let some idea come to me, but nothing really did. Oh, but John Lee Hooker wanted to peek out of my sweater and say hi, ya'll.
I went on a morose but fruitful shopping day this weekend and spent a bit too much money... but I magically found these boots on sale for $39! I think I often really want a trend only when it's not in season. Craving boots in summer, needing a breezy white spring-y dress in the middle of January. Now, I've never before owned anything resembling a cowboy boot, but well, I die. They're an awesome shade of gray (my favorite color), great heel height for all day wear, and have cutout sides, all perfect details for summertime boot wearing.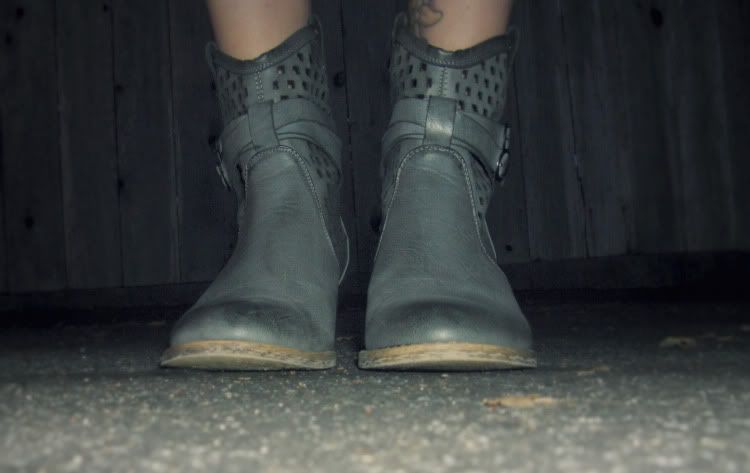 sweater - new york & co. | tee - eBay | shorts - hurley | boots - journeys
Today's Yays ♥ typing with my pup curled against my leg ♥ vanilla cupcakes ♥ first custom order for my
sassy ruffles
skirt made & shipped ♥ getting my replacement invisible zipper foot in the mail so I can make some more ♥ working w/my bestie
P.S. How awesome is Nanc's outfit??