The only downside to hanging out in a gorgeous field is that fields have bugs, and bugs often feed on humans. I have a big itchy spider bite on my arm that is driving me crazy! But it hasn't stopped me from enjoying the weather out there the past few afternoons, I just smartened up and brought a blanket.
My dog loves to poke around, chasing little butterflies and eating grass. She always stays close and checks in. This was a warm afternoon so she lay in my shade while I read. She would not get into any of the photos though.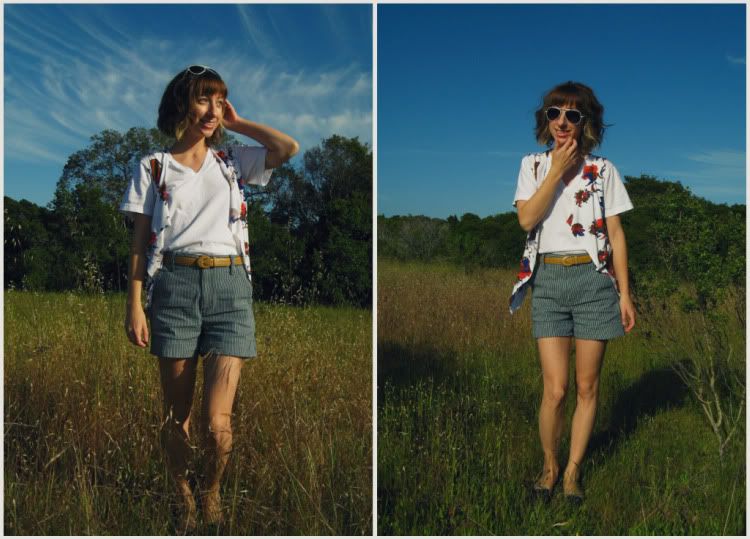 Um, yeah I thought this turned out pretty funny. The extent of my athleticism is jumping over small shrubs. I much prefer lying down. Or reading. Or sleeping. Or eating. Or all three. Or shopping at Crossroads* haha. I'm so in love with these shorts! They were actually new, but for $12. I love the pockets and the skinny stripes. It's been hard styling them since I haven't made many tops for
Me-Made May
. I also just got a navy & white striped top that I really really want to wear with the shorts, but I don't think I can until June...
tee- aa, via crossroads | vest - self made | shorts - f21, via crossroads | belt - thrifted
shoes - michael by michael kors, via crossroads

The clouds were so crazy looking this day, like cake decorations. I thought they went well with the frosted cupcake bite.
*For those of you who wondered,
Crossroads Trading Co.
is similar to Buffalo Exchange; they buy and sell new and used clothing. I used to work there for a short time, during which I spent
way
too much of my paycheck there (employees get first dibs on the good stuff!) This is a pretty small chain in Portland, Seattle, Chicago and throughout California.
I hope you all are having a wonderful weekend and a lovely Mother's Day!