Yesterday was such a glorious day. One, because I wasn't working, and two because I got to do so much enjoyable stuff! During the day I needed to so a bunch of errands, but the fun kind. I'd planned on going thrifting too, but well, circumstances got in the way. I dressed comfortably in flip flops for walking and trying on shoes, and wore the new skirt I'd just finished. I was still a bit cold all day but the sweater materials helped. Warning: this is going to be a wordy post, so you don't need to bother reading all the words, I just had such a long day I want to record!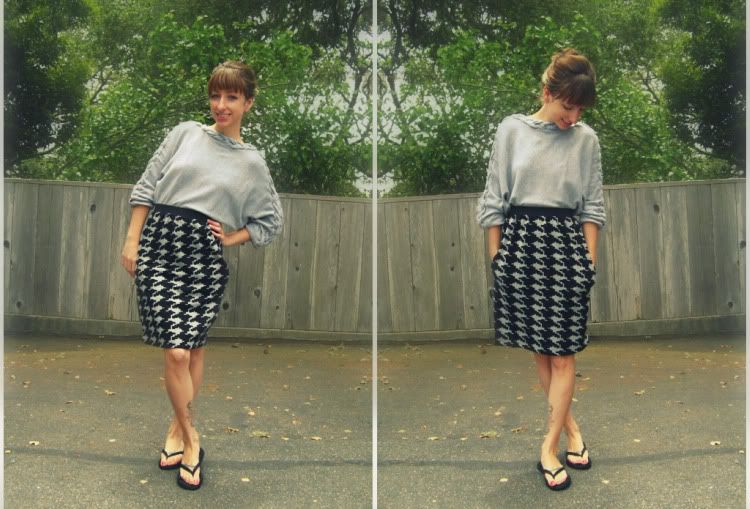 I went to my trusty Beverly's Fabrics (working there was actually my first job, from age 15 to 18) and totally scored. Simplicity patterns were on sale for $3.99 which is UH-mazing, and I found gorgeous fabrics on the remnant tables to make the first drafts, plus some cute pink jersey to make wrap scarves for my etsy store and the giveaway I'm planning. [I also found a cool raw wood shelf on sale, and bought gold paint to make it pretty. It's going above my bed like a headboard, full of fresh flowers, photos, candles and what now. I started a little spree of redecorating/rearranging and it's been really fun!]
Moving on, I also went to the mall for the first time in many moons and discovered that...I like it a lot less than I ever have. I only ended up getting some hand soap at Bath & Body Works. When I got downtown to eat and go thrifting, I realized: there's soap in my giant purse, but no wallet. I never lose my stuff, and I frantically started calling the mall and my bank and putting a hold on my debit card, and imagining all kinds of horrors involving getting cash and a new ID and all that. The mall stores I'd been to said they hadn't found any wallets, but I drove like a bat out of hell back there anyway with half-assed plans of retracing my steps and hoping my wallet was on the ground somewhere. To my infinite luck and relief, at the last place I stopped, Bath & Body Works did have it, tucked safe in a drawer. I was so relieved!
sweater - black harts, via crossroads | skirt - self made | shoes - target | coat - billabong

That catastrophe averted, I felt super light and giddy, went home, threw the new fabric in the washer, pulled on tights and some fun bright wedges, and headed back downtown to meet a friend for dinner at
Hula's
(turn your computer's sound down if you check their website). This is one of my favorite places to eat, and if you live near Santa Cruz or Monterey I suggest you try it. The decor is fun, the lighting is dim, and fun music is usually playing in the background. Michael Jackson hits started soon after ten, which was fun. We had kamikazes, sweet potato fries, the Duke's Luau Pork, tried pineapple wine from Hawai'i, and finished with an amazing slice of a passion fruit/key lime pie thing that tasted like heaven. We went to CVS around midnight to debate zit creams and mascara, and damn was that place scary! So many crazy people around. I took the second set of photos when I got home, so I was a little tired and cold and impatient.
What is your fun weekend happening?