I had the wonderful opportunity to do an interview with the funny and fabulous Marisa of
New Dress A Day
. Marisa's amazing blog features all the thrifted and vintage
clothes she refashions—on a
daily basis
! Inspired by
Julie & Julia, s
he's vowed to spend "the entire year without doing an ounce of traditional clothing shopping." Instead, she dedicates time and $1 per day to transforming unlikely thrifted clothing (like muumuus) into fitted, flattering wearables. Learn more about this crafty dame who's fighting the recession blahs armed with just a sewing machine, Rit dye and endless creativity: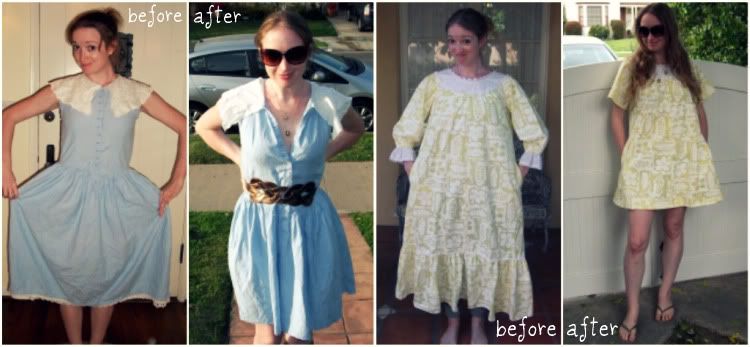 How did you first get into sewing and making your own clothing? What's your earliest crafty memory?
I began sewing in 7th grade - Home Ec class is where I really learned how to use a sewing machine. My favorite crafty memory is the prom purse I made with some fabric and ribbon I scored at Fabric Bonanza (now that is a blast from the past-shocked that I even remembered the name of that place!). I hated all the typical prom options and found a DIY page in Sassy Magazine on how to make little purses. It was amazing - I just came across it again and patted myself on the back.
What's your favorite garment to wear that you made/altered?
From what I've done so far, I think one of my favorites is this piece from
Day 84
. Aside from the blog, there is this great dress I grabbed and tweaked that looks like Marc Jacobs - there have been many people who have asked me that. Instead I smile, say no, and let them know that the dress was instead a $1 find.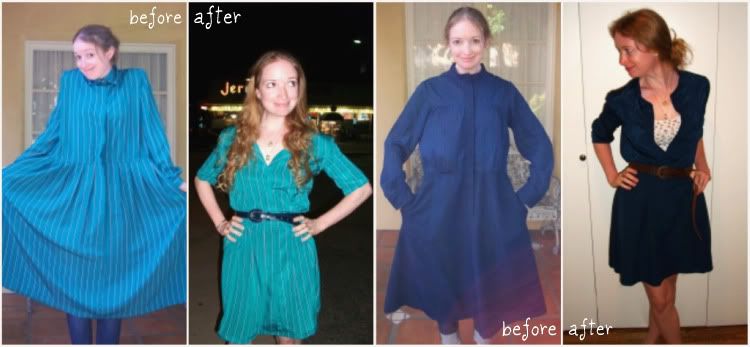 Where do you get most of your "raw materials" (i.e. your most favorite places to score your "befores")?
The best place to get my raw materials is at this fantastic vintage boutique,
Jet Rag
, in Hollywood. Each Sunday their parking lot is covered in piles and piles of old duds that all cost $1. You can find gems that are in pristine condition or you can find pieces that I grab - one of the best sales around!
What kind of sewing machine do you use?
I have a basic white sewing machine. It's been my girl for the past 10 years or sew (pun intended :)
What do the people you live with think of your constant dyeing & sewing?
Ha! They enjoy it, especially when I'm fixing things from their wardrobe! My sewing machine has seemed to take up permanent residence with us!
Is there an average amount of time every day that you spend sewing & gathering new materials to alter?
It totally varies - I like to pick up a bunch of pieces during my thrifting trips at once and in an ideal world would prep outfits for the week ahead of time. Unfortunately I'm now on more of a daily sewing/tweaking grind. If something just needs a quick trim, then it'll take just minutes. If something needs new hems, lengths, size adjusting, it will take a bit longer. I'd say anywhere from 15 minutes to a few hours.
Is there anything you miss about going shopping for new clothes, the traditional way?
I still head to stores to browse, mostly for inspiration. I have to say, it's definitely hard sometimes when I come across something so magically amazing that I think that it must be in my wardrobe. Instead I take notes and try to recreate my own vision and keep my fingers crossed that I'll see that piece at Buffalo Exchange or Crossroads next year when I can buy it!!
What has this experience (so far) taught you or helped you discover about yourself?
It's funny, because my sewing and refashioning of pieces was always something I just did. I never thought twice about it being a skill or something that was more than just a fun side project. I always just brushed it off and now it's incredible to hear from so many people how it's giving them inspiration. I'm floored by the comments and feedback - I've been completely humbled by the most amazing words!
Besides the character of thrifted clothes themselves, what are some things that inspire your style choices?
I'm looking at my current inspiration board right now - on it is...
• a splice of H&M's new Garden Collection
• a picture of Mia Wasikowska from Alice in Wonderland in one of the costumes from the film - the gorgeous
off the shoulder frilly dress
that Johnny Depp so masterfully cut for her
• Alyssa Norton's art-deco-y ring/bracelet & Tom Binns multi-color rhinestoned necklace
• an image of a cupcake from Magnolia Bakery
• a shot of Karen Elson from 2004 in an Alexander McQueen backless silver gown
• tear sheets from magazines of dreamy backyard spaces (Gloria Swanson's is my fave). It's very spring-y/garden-y which is getting me in the mood for the summer!