Last night I went to San Francisco to see the band
Murder By Death.
No, they're not scary like their name. But going to a show where the vast majority of people, male and female, are wearing black hooded sweatshirts made my dress a little dilemma.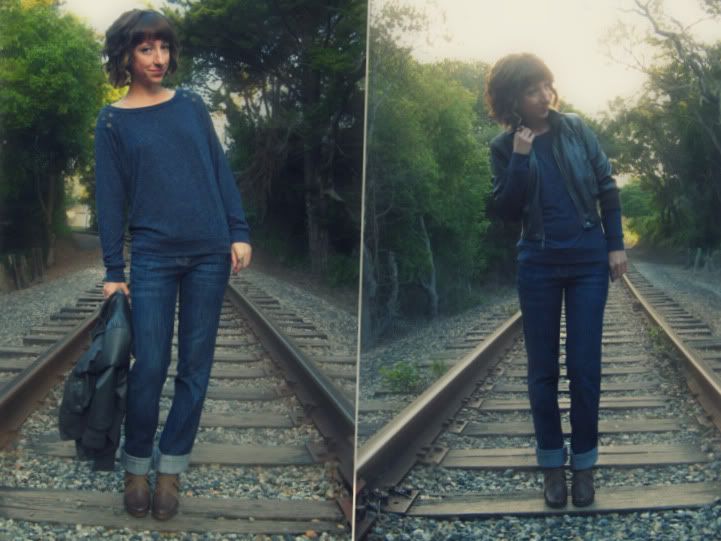 I was in no frame of mind to want to stand out, but since I'm short I wanted to wear heels in order to see something more than the armpits of strangers. Then I couldn't resist this super comfy studded sweater I scored recently... I can't wait to wear it with a pretty skirt! Speaking of skirts, though, I did see a girl wearing a full skirt and tights and was like, aww okay that's cute even in here. Then someone else in spike heels slipped on spilled beer and I got distracted by congratulating myself on wearing wedges ;]
jacket - wet seal | top - crossroads | jeans - crossroads | boots - urban outfitters
I am so excited and honored to be featured on
Runway Daily
with some other lovely Chictopia gals. Check it out!
5 Things That Made Me Yay Today
♥ new blog followers ♥ sitting with my pup, drinking hot cocoa, and looking at the beautiful blue sky ♥ feeling a sudden burst of cleansing energy and scrubbing my bathroom and tidying up my bedroom. I'm not a clean freak, but it sure feels nice to be surrounded by more order and less dust bunnies ♥ seeing a fun band and having a very unusual, pleasant sense of outgrowing the less mature me I was when they were like, my
favorite
♥ satellite radio actually offering me some
good
musical selections: I'm looking forward to the new Black Keys album!