It's been many weeks of wearing skirts. Now, I love skirts. I've become enamored of them; the swing of full, pleated fabric, the instant girlification. However, I am
really
sick of
tights
. I'm usually so afraid of getting chilly that I wear two pairs, or tights over leggings. Since it's not nearly warm enough to go without, I'm trying to put together outfits with jeans that don't make me want to pull on an old hoodie and forget about it all.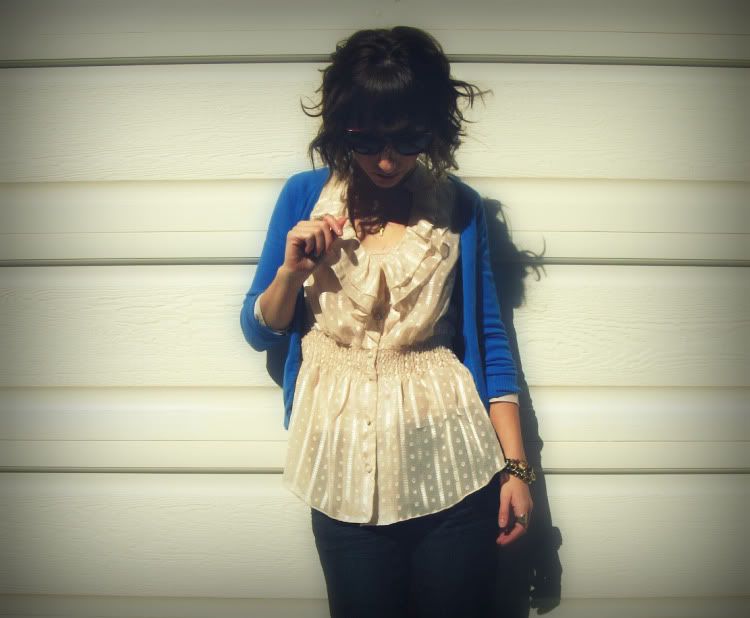 Sheer fabric, jewelry and ruffles are always a good way to feel good. The top is too big, but it was $5 on clearance. Yes, sometimes I follow the falsehood "on sale is always the right size." If being polka-dotted and the perfect pale peachy cream color is wrong, I don't want to be right. I like anything that reminds me of food. I have an out of control sweet tooth, mostly in terms on food, but also sometimes jewelry...
The weather is beautiful, nice enough for me to wear sandals without my toes freezing. I am extremely happy about daylight savings! I got out of work this evening and the sun hadn't set yet, woo hoo! It's like a whole new world.
cardigan - h&m, 2 years old | top - charlotte russe, 4 months | jeans - unknown/macy's on sale, 3 months
|
shoes - ross, 9 months | earrings - claires | necklace - crossroads | ring - forever 21 | link bracelet - watch (ch
arm removed)
from ross
5 Things That Made Me Yay Today
♥ waking up before my alarm and feeling well rested ♥ peach pie with whipped cream (see a pattern??) ♥ getting my paycheck direct deposited a day earlier than anticipated ♥ gaining 4 new followers this weekend (hello lovely people!) ♥ finding a parking spot right in front of work ♥ bright, warm sunlight glinting off warm metal (jewelry)
What made your weekend sweet?