The way of the pant took a turn into jeans-and-tee-town this morning. I rarely wear actual blue denim jeans; I like my black and gray pairs much, much more. These are a cheap pair a few sizes too big, found at Crossroads. They are nice and comfy, but it's hard to ignore the fact that cuffed anything and short legs equals stumpy. Jumping in the air repeatedly or standing on trees wearing pointy flats seems to lengthen the leg better than heels!
I had to dump on the gold with embellished flats and a clanky necklace. I'm not a big t-shirt wearer, especially involving writing or anything that causes people to stare at your midsection, but this one from Obey is my favorite. I may not be bold enough yet to don a turban on my head, but on my shirt, yes. It's a cool brown and super soft, and you can't tell but the sleeves are longer than regular t's, which I love.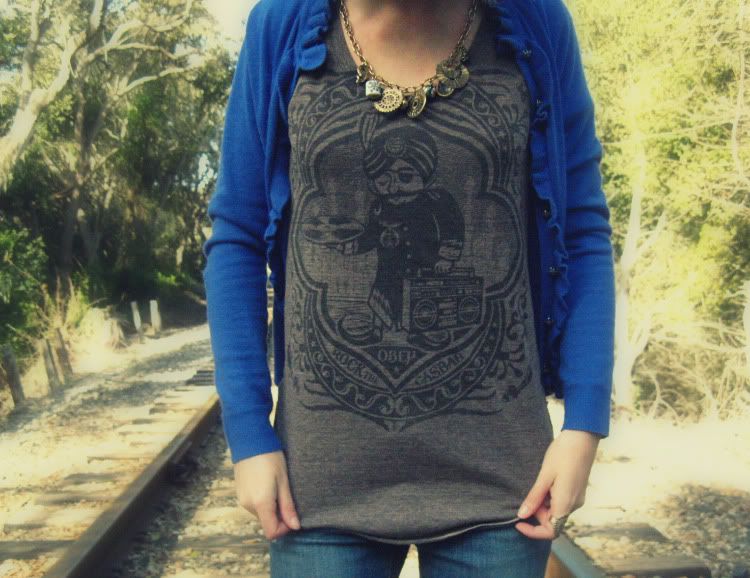 cardigan - new york & co., 3 mo. old | tee - obey, via crossroads, 1 yr. | jeans - element, via crossroads, 6 mo. | shoes - crossroads, 1 yr. | jewelry - forever 21, 1+ yrs.
I love Spanish moss. I never really noticed just how much of it there is around here before; I first began spotting it while taking outfit photos on the train tracks behind my house, and now I see it in different trees all over town. I love the creepy bayou feel it gives everything. Oh how I love Southern stereotypes—according to wikipedia it gives a "gothic" appearance to the landscape and loves southern cypress and live oak, which also grow all up in this chunk of the West Coast, hrmm...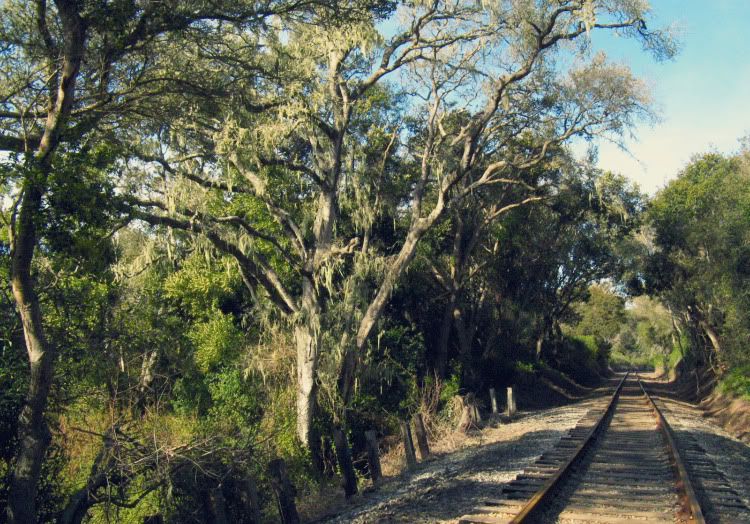 4 Things That Made Me Yay Today
♥ this year's warmest, balmiest, most beautiful dusk so far ♥ pepperoni pizza ♥ pleasant interactions with practically every stranger I encountered, and several really really good ones, which is unusual and absolutely wonderful ♥ shopping successes exceeded all expectations today: on my lunch break I thrifted the cutest pink shoes, picture frames & sweater, and after work, while walking through the aforementioned lovely evening I found the greatest boots at uo that scanned on sale, as well as getting a $48 cardigan for $4.99 because "oh well, it's not in the system." Sometimes the system does work in our favor!