My love notes to black and gray seem to be written weekly. I love these two non colors so much, it's ridiculous. The largest sections of tops in my closet are the black and gray tops. Surprisingly I haven't found any gray shoes to complete my collection of drab uniforms. By drab I mean amazing, of course.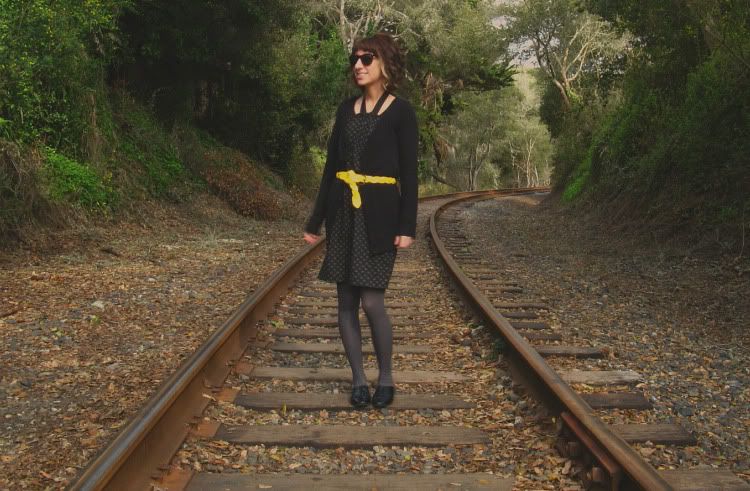 I just got the yellow belt via trade at Crossroads and the dress has tiny yellow flowers on it, so it was an outfit made in lemon heaven. I almost went with basic black tights per usual, but some wise, quiet voice in the back of my mind said no, go gray. It's kind of weird that wearing gray tights with a black outfit was such an "aha!" moment, but it was. Oh universe, continue to guide me onward toward greater states of being and better wardrobe choices!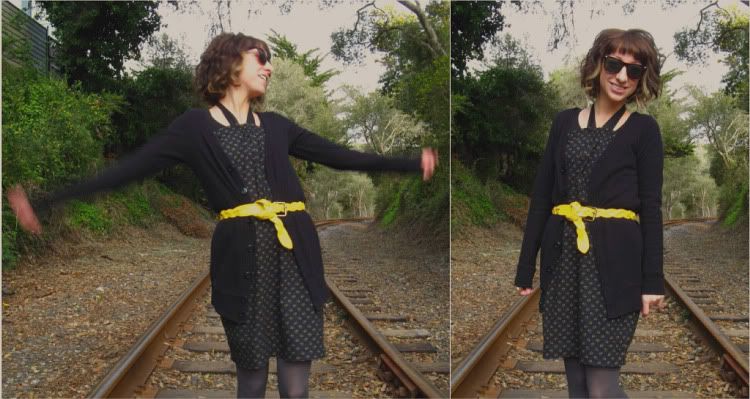 Some guy was walking by and remembered me from last week. I think he thinks I'm doing on a project about train tracks or something. When the self-timer went off, he'd commented that I'd been working on this a long time, and I was saying "It changes every day!" in an effort to not explain what I'm really doing out there at 9:30 every morning. How do you deal with strangers intruding on your outfit documentation? Saying "I take pictures of myself and post them on the internet" doesn't quite capture the right tone...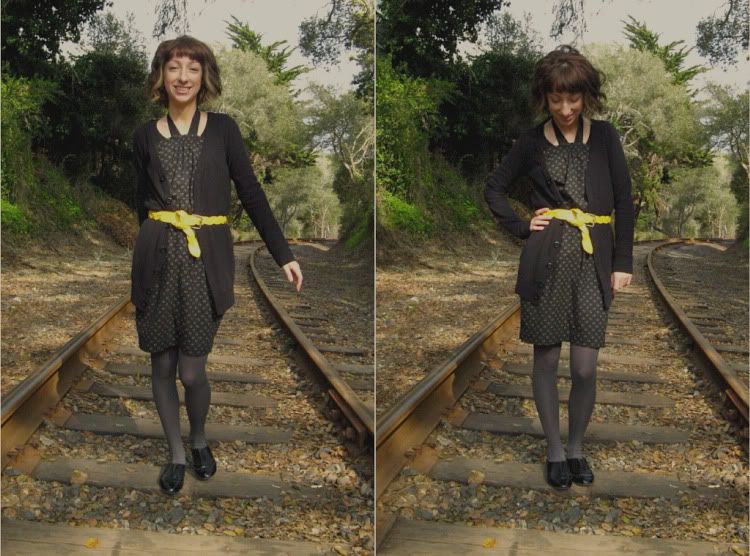 cardigan - tresics, 9 months old | dress - self made, 8 mo. | belt - crossroads, new | shoes - steve madden via ross, 2 weeks
(I'm still missing an "a" key; this copy+paste business is so frustrating!) I've got to be more proactive about appreciating what I have (a job, plenty of food, a roof over my head, my own bathroom) in order to draw my focus away from what I feel I lack (a rewarding career, my own apartment, financial security, an environment where I feel like me). So in addition to my daily outfit posts, which bring me much joy, I'm going to start counting my blessings: at least five things every day that I am grateful for or that made me smile. I've tried this before, and I keep a little journal of them throughout the day too, but I want to set it in, well, the internet is probably the least stone-like medium out there, but anyway I want to make it a habit.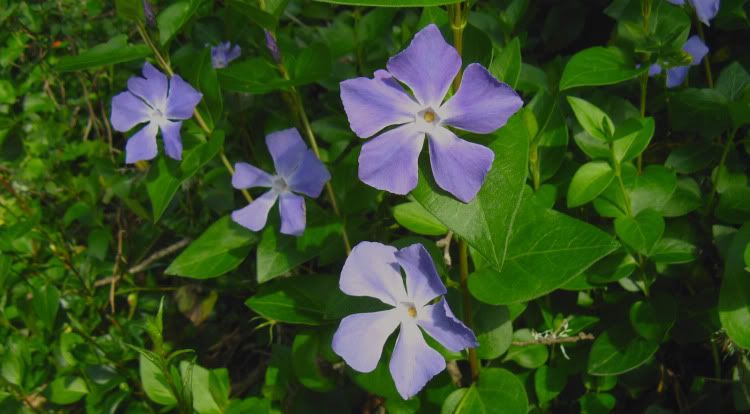 6 things that made me "yay" today
♥ Noticing those pretty blue flowers flourishing by the train tracks. ♥ My car; sometimes I zone out on my way to work, thinking grumbly thoughts about the workday ahead. Today I really appreciated the luxury of my nice toasty car, even though it was taking me somewhere I didn't want to go. ♥ Going for a little walk on my break & discovering a box full of free Interview magazines from the late 1980's; such times, such blog inspirations! ♥ Being early for once and having time to pick up my favorite chai with honey & soy milk, mmm. ♥ Getting a raving (in a good way) compliment on my hair (why is it the older ladies who love the crazy curly 'dos??) ♥ The biggest yay of the day is discovering that one of my favorite bands, Murder By Death, is on tour and coming to a town near me (San Francisco) early next month! I am asking for tickets for my birthday.
I have seen them a few times over the years and they are always fantastic to experience live. Their musicianship is flawless (the cellist often plays her parts while switching over to the piano and back mid-song), their sound is lush, and the singer has one of the most expressive voices out there. If you haven't yet, check them out, and don't be discouraged by their name, it's not what you might expect!