I am so happy to have found brown tights! I've spotted them on several bloggers and love how they look; less severe and ashy with skin shining through, unlike black. Now I just need a white dress to go with them! It was actually so warm this afternoon that I took off the sweater, which is amazing since I'm usually freezing when everyone else is comfortable.
(Hrmm, moving pictures are fun but so grainy! Does anyone know of a better generator?)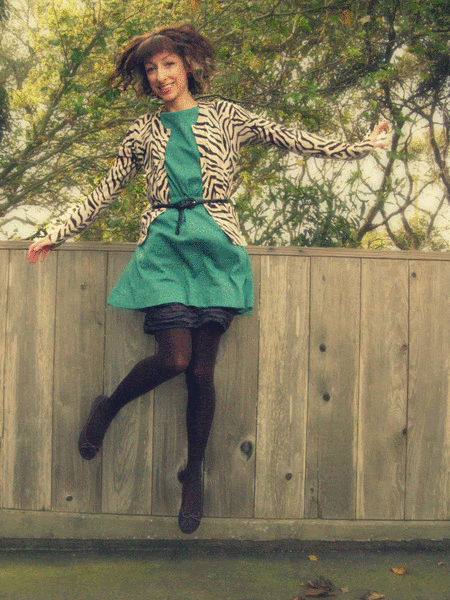 cardigan - old navy, via crossroads, 1 yr. old | dress - self made, new | belt - wet seal, 9 mo.
underskirt - self made | tights - hue, new | shoes - unknown, old
I think I'm going to turn the dress into a skirt. I felt a bit too much like Peter Pan in this. Where are my lost boys? (Speaking of, fun fact: much of the 1987 movie
The Lost Boys
was filmed in my hometown!) I liked how the zebra print cardigan complimented the uneven two-tone stripes on the underskirt. Plus, brown tights and brown ballet flats? Did I mention I heart being matchy-matchy!?
5 Things That Made Me Yay Yesterday
♥ my puppy bouncing & chasing after bugs ♥ spotting a Cheshire moon after seeing Alice in Wonderland
♥ discovering my tax return was direct deposited earlier than expected ♥ winning a cool vintage purse from
The SF Style
giveaway! ♥ pepperoni pizza, The Simpsons & Family Guy